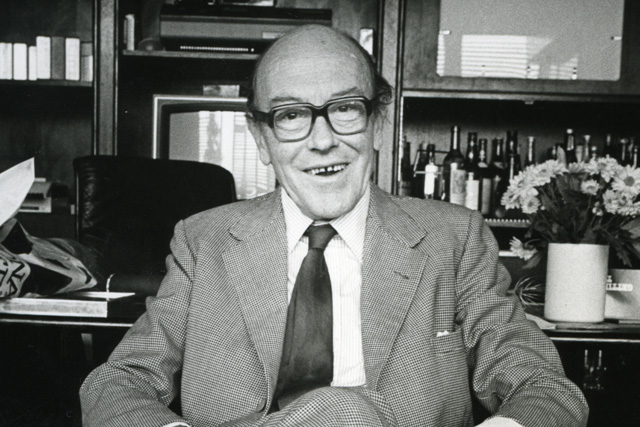 He wore them all the time and took a great delight in displaying them, often strolling around the agency without shoes.
Tony Brignull, one of CDP's most famous creatives, believes Pearce's predilection for such attire was because he thought it was what toffs wore and that they would give him an upper-class aura.
It was undoubtedly true that, as well as being the sparkplug of an agency that created some of the best UK advertising of all time - the mould-breaking Hamlet, Heineken and Benson & Hedges Gold campaigns among them - Pearce quite liked the trappings of the landed gentry.
He was said to have been rather taken with the notion of being a "gentleman farmer", although the nearest he probably got to it was when the agency presented him with a Charolais bull as a present.
The animal famously went on to figure in the 1980 Old Bailey case in which CDP was successfully prosecuted for tax evasion. "The judge found it highly amusing that the bull hadn't been declared as a gift-in-kind," one ex-CDP senior staffer recalls.
Pearce certainly liked his meat - and not always for the most obvious of reasons. John Salmon, the former CDP chairman and creative director, remembers asking Pearce why he always ordered offal whenever they went to lunch. Pearce, then in his mid-60s, explained it was because offal was a most excellent aphrodisiac.
Sir Alan Parker, the former CDP copywriter-turned-film-maker, recalls how Pearce, rarely seen without a Scotch in his hand, had a nightly habit of leaving the pub, throwing up over his Crombie overcoat and wiping himself down before staggering home.
Yet, for all his eccentricity, it was Pearce's single-mindedness and amazing self-belief that dictated the way CDP operated. It was fine in the days when clients with limited knowledge were prepared to stand back and let agencies weave their magic, but so much harder to sustain in a communications world now so much more fragmented and sophisticated.
THINGS YOU NEED TO KNOW
- Pearce, a former wartime lieutenant colonel, didn't enter the ad business until he was in his 50s.
- A one-time managing director of Colman Prentice & Varley, he formed CDP when he and his friend Ronnie Dickenson, an exATV programme controller, bought John Collett's Pictorial Publicity.
- Pearce was famous for not tolerating meddling clients. He once fired Ford, then CDP's biggest account, because the car-maker kept trying to change the ads.
- Pearce died of a heart attack on his 68th birthday in September 1981. In 2000, CDP was acquired by the Japanese outfit Dentsu. In 2010, CDP became Dentsu London.