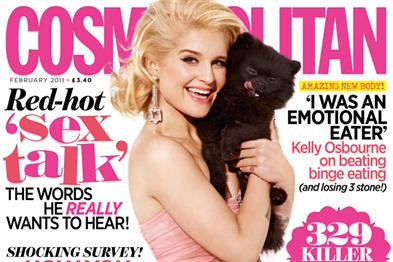 US-based international brands followed the magazine across the Atlantic, and their UK counterparts were quick to latch on to the potential of a women's title that was quite unlike anything seen in Britain before.
Nearly four decades on, it's hard to imagine how humdrum the magazine choice was for women at the time. Just Woman's Realm - all knitting patterns and recipes - at one end, and tame teen offerings such as Jackie at the other.
Cosmo, published in Britain by the Hearst-owned National Magazine Company, had no such inhibitions. The first edition featured Michael Parkinson speaking about his vasectomy -"The most beautiful thing a man can do for a woman" - and Jilly Cooper discussed great lovers. Introduced with a TV spot by Saatchi & Saatchi, Cosmo had a print run of 350,000. Copies sold out within 24 hours as women lapped up its "lipstick feminism".
One reader, a schoolgirl at the time, remembers: "Cosmo was fun, it was funny and it was the only kind of biology we were interested in!"
Deirdre McSharry, an early Cosmo editor, says: "In Fleet Street, people were terrified of us. We weren't watching our backs, like women's magazines have to now."
Cosmo wasn't afraid to tackle sex and relationships head-on. Down the years, its headlines have included "Four ways to get more foreplay" and "20 sex tricks to try tonight".
Issues such as abortion and sexually transmitted diseases were also Cosmo territory. And it produced some polarising headlines to match. "Who me? VD?" was beyond the pale for some. The line "I was frigid" on a poster provoked London Underground to demand the word "frigid" be covered with a black strip. Unfortunately, the tape left some posters declaring: "I was f--d."
Today, Cosmo is claimed to be the world's largest-selling young women's magazine, although it lost its lead status in the UK when Conde Nast's Glamour displaced it in August 2002.
THINGS YOU NEED TO KNOW
- Cosmopolitan was launched as a family magazine in the US in 1886. William Randolph Hearst acquired it for $400,000 in 1905.
- The magazine's circulation was in decline before it was converted to a woman's title in 1965. Its change in fortune was signalled by the appointment of Helen Gurley Brown, famous for her book Sex And The Single Girl, as its chief editor.
- Cosmopolitan has had a challenging time in the UK of late. Last year, Glamour increased its lead over its rival from 93,000 to 109,000 copies per month.