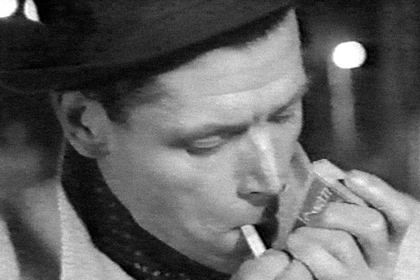 And yet the campaign flopped so spectacularly that it goes down as one of the biggest disasters in British advertising history, having failed to persuade no more than a handful of smokers to even try the brand. Yet in crashing so badly, it highlighted an issue adland wrestles with to this day. Is creative advertising and effective advertising always the same thing? The Strand fiasco suggested that they are not.
The Strand commercial was the work of the SH Benson copywriter John May - regarded as one of its outstanding talents - who is said to have created the script within 24 hours after the brand's owner, WD & HO Wills, had rejected the agency's previous efforts as too ho-hum.
Using stark cinematography, the ad featured a Frank Sinatra lookalike - the actor Terence Brook - as a lonely soul walking rain-soaked city streets at the dead of night.
Wills bosses were so bowled over by the film that they previewed it in a London dance hall to get the PR bandwagon rolling.
The commercial spearheaded a multimedia blitz and public awareness of the brand and its advertising soared to more than 90 per cent within weeks. So how come defeat was snatched from the jaws of seemingly certain victory?
The most popular theory is that even in the relatively unsophisticated 50s, people could recognise a sad bastard when they saw one and had no wish identify with him.
Others suggested the ad was just too depressing and made solitary smoking look like solitary drinking, something in which only addicts indulged.
A simple explanation is that great advertising can't sell a poor product. Strand was just a lousy smoke.
THINGS YOU NEED TO KNOW
- The film's soundtrack, composed by Cliff Adams, went into the charts and might have topped them had the BBC not banned the disc when it realised it was promoting a cigarette brand.
- Brook received several offers of marriage "and several less respectable forms of enjoyment" after the commercial aired.
- May, who also created famous campaigns for Michelin and British Gas, quit advertising at the height of his career to become an historian and antiques expert.
- Strand was only ever bought by 0.3 per cent of male smokers and 0.7 per cent of female smokers.