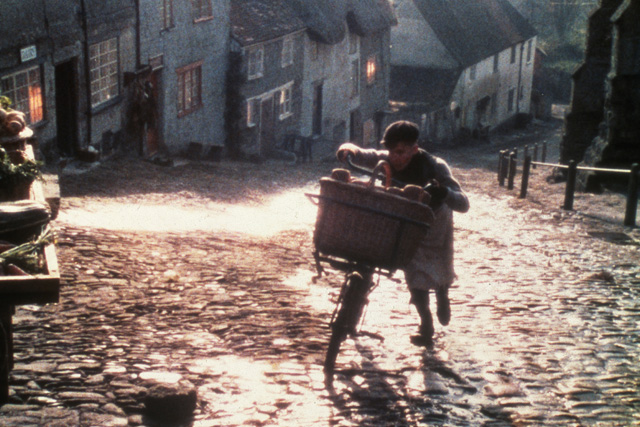 For one thing, it evoked a sepia-tinted view of an early 20th-century working-class childhood that those who experienced it would probably have struggled to recognise.

For another, it was filmed nowhere near Northern England's dark satanic mills, but 250 miles to the south in the picturesque Dorset town of Shaftesbury.
It's there you'll find a steep cobbled street of quaint shops and houses that has featured on the covers of countless books about Dorset and rural England. Its official name is Gold Hill - but to most of the tourists who come to look, it's known simply as Hovis Hill.
While Allinson's animated baker, who reminded TV viewers that his loaves had "nowt taken out", lingers in the memory, it was the 70s trio of Hovis ads that still get voted among the country's favourite commercials.
The first of them, created by Collett Dickenson Pearce and directed by Ridley Scott (later of Alien, Blade Runner and Gladiator fame), is regarded as a mini-masterpiece that harks back to a simpler and more innocent age.
Even the soundtrack of Dvorak's New World Symphony, arranged for brass, cleverly links the Hovis brand with wholesome Northern values and sets the scene as a baker's boy struggles up the hill with his bike to deliver his bread before freewheeling back down.
The film was a passport to a place in advertising history for Carl Barlow, then aged 13, who played the lead role (and is now a fireman).
He says: "It was fate that I got the part as the Hovis boy. I was in the last three, and it turned out that one of the boys couldn't ride a bike and the other wouldn't have his hair cut in a pudding-bowl style."
The ad has since been dusted down and rebroadcast for almost three decades, until 2008, when Premier Foods, the Hovis owner, launched the "go on lad" spot.
THINGS YOU NEED TO KNOW
- Hovis returned to Gold Hill this year to announce a three-year deal with Victoria Pendleton, the Olympic gold medal-winning cyclist, to promote healthy living and family cycling.
- Premier Foods has indicated it will contribute towards the preservation of the wall that borders Gold Hill. North Dorset District Council and Shaftesbury Town Council had been arguing over responsibility for the crumbling masonry.
- Gold Hill hit the headlines for bizarre reasons in 2003 when vice squad officers raided a brothel tucked away between the tearooms. It was set up by a woman and her ex-army major partner to pay her daughter's £20,000 school fees.