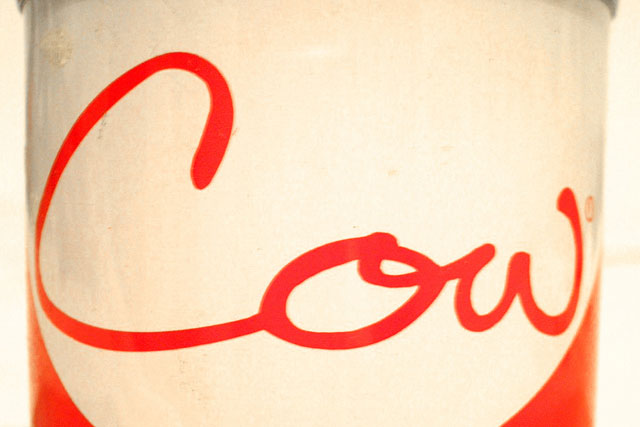 Lift the lid off the tin and - if you're a creative of a certain age - the distinctive pungent smell will transport you back to the days before Apple Macs brought convenience to an advertising process that was always troublesome and often downright messy.
In these days of on-screen composition, it's difficult to imagine a period when artwork couldn't be e-mailed or uploaded but had to be pasted on to boards using a solvent-based latex adhesive called Cow Gum.
Agencies such as Collett Dickenson Pearce and Doyle Dane Bernbach, which regarded high-quality typography as vital to sustaining their creative reputations, had their own paste-up studios where this painstaking work was carried out.
Cow Gum, a scalpel and a bottle of Ronsonol lighter fluid were the tools of the paste-up artist in the 60s. This was a time when hot-metal typography was the norm and agency creative directors insisted letters were cut up and pasted into place individually to get their ads looking as they wanted.
With its distinctive red-and-white tin, Cow Gum was ideal for paste-up work because, unlike water-based glues, it didn't cause adhered surfaces to wrinkle and could be peeled or rubbed off easily without causing damage.
But it did have its drawbacks. One former paste-up artist remembers taking his work for inspection by the creative director, who questioned why an entire word had been omitted. The word was found stuck to his elbow.
"At least 50 per cent of Cow Gum ended up where you didn't want it," a graphic designer recalls.
Between them, Cow Gum, Magic Markers and a fixative that smelled like pear drops gave off a collective whiff that (as one creative remembers) you could smell a couple of streets away: "No wonder we all went around as high as kites and calling each other 'man'."
The highly flammable Cow Gum was also an unlikely aid to enlivening a dull afternoon in the creative department. One trick involved propelling a lighted ball of it through a cardboard post roll that became a makeshift blow-tube. The effect, as one art director recalls, was "rather like dropping napalm. Any account man who turned up not having sold one of our ads was quite likely to leave with his arse on fire!"
Things you need to know
- Cow Gum was similar to the rubber cement invented by Paul Van Cleef in the early 1900s for use in various applications at the Van Cleef Brothers factory in Chicago.
- Cow Gum's redeeming quality was that it could be rolled into balls that bounced spectacularly - just right for impromptu cricket matches in the DDB creative department.
- Another favourite trick of the creatives was to leave a tin of Cow Gum open on its side and perched on the edge of a filing cabinet before leaving work. The gum would reach the floor just as the cleaners began their early morning shift.