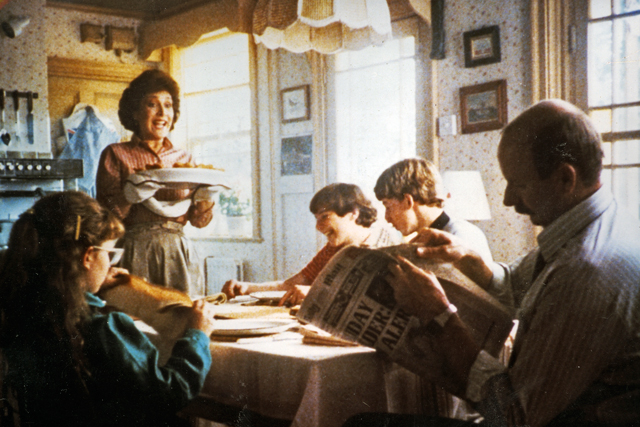 To most people, that means the Oxo family - the main characters in a soap opera centred around the delights of steaming Oxo gravy that ran for 16 years from 1983.
In fact, there were two Oxo families, the first having made its TV debut way back in 1958 in the form of Katie, who knew how to keep her husband, Philip, happy with Oxo's nine good ingredients that "give a meal man appeal".
Both campaigns provided a long-running commentary on family life: so ordered when Katie dished up her first casserole, but much less predictable when Oxo mum Lynda Bellingham served up her last supper in 1999, having appeared in 42 ads created by JWT.
In the 60s, many people actually believed Katie, Philip and their baby son were a real family. There was an outcry when Philip was seen mopping up his gravy with his bread and Katie, back home with her shopping, made gravy without first washing her hands.
Katie hung up her apron in 1976, and it was another eight years before a new family took her place in a fast-changing world.
During the 80s, the vegetarian stock cube made its debut and Bellingham was no longer a kitchen-bound housewife but had a job.
As soap operas such as EastEnders began attracting mass audiences with gritty plotlines, so tensions began to surface in the Oxo family. One spot featured the parents not talking to each other and the children having to be intermediaries.
The demise of the Oxo family came about because it wasn't seen as representative of everyday life in middle England any more.
In the end, the Oxo family fell victim to the fact that the rise in working women meant fewer families eating together. As Bellingham put it: "Life has changed so radically. It was about a different era."
Things you need to know
- Oxo was owned by Unilever's Van den Bergh subsidiary until 2001. Along with Batchelors, the brand was sold to Campbell's to allow Unilever to buy Bestfoods. Oxo is now owned by Premier Foods.
- After Katie was dropped, Oxo recruited Dennis Waterman - once of The Sweeney, now of New Tricks - to extol the brand's benefits.
- Oxo clearly had some remarkable effects on some of those appearing in its commercials. Katie and Philip's son, David, appeared to grow from a newborn into a three-year-old in the space of a single summer.