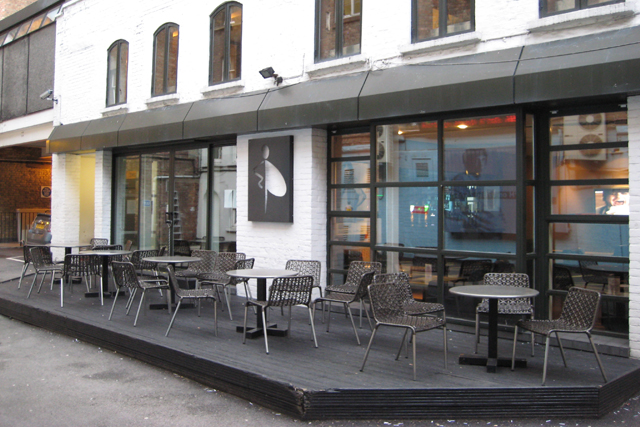 And not just because it will mark the end of a place where so much iconic British advertising was created.
Along with it will go The Pregnant Man, the agency's private pub, which also bears the name of one of the best posters of all time.
It will disappear as part of a £125 million redevelopment of the 1.4 acre Charlotte Street site, which will be given over to new offices, homes and shops as the agency moves to a new home.
While other agencies had their favoured watering holes - for CDP, it was The Feathers; for JWT, The Coach & Horses - none could boast of their own pub.
The idea for it came out of an agency away weekend at a holiday camp on Hayling Island. These were held under the guise of working sessions but were actually thank-you parties and an opportunity for staffers to make suggestions on how agency life could be improved. Although the agency's local was The Carpenter's Arms, many thought that an in-house pub would be a good way of improving communication among Saatchis' 600-strong workforce.
Simon Goode, the agency's former general manager for Europe, the Middle East and North Africa, says: "People were asking why we were spending so much at the Carps when we could spend more time with each other in-house and circulate the money spent within the agency."
In an internal competition to name the pub, The Pregnant Man won by a mile, and it opened its doors for the first time at Christmas 1993.
The good news is that The Pregnant Man won't die. Robert Senior, the SSF Group's EMEA chief executive, has promised it will be re-created when the agency is in its new home in 2013. "It's part of our DNA," he says.
THINGS YOU NEED TO KNOW
- The original Health Education Council ad, which asked "Would you be more careful if it was you that got pregnant?", nearly didn't happen. Jeremy Sinclair and Bill Atherton, the creative team, were fearful about the public reaction. Charles Saatchi loved it.
- Lee Daley caused astonishment when, as Saatchis' group chief executive, he renamed the pub The Gum Factory after Gum, the agency's branded content unit. Robert Senior, his successor, promptly restored the original name.
- The pregnant man became a reality in 2008 when Thomas Beatie, who became a man after sex-change surgery, gave birth to a daughter.