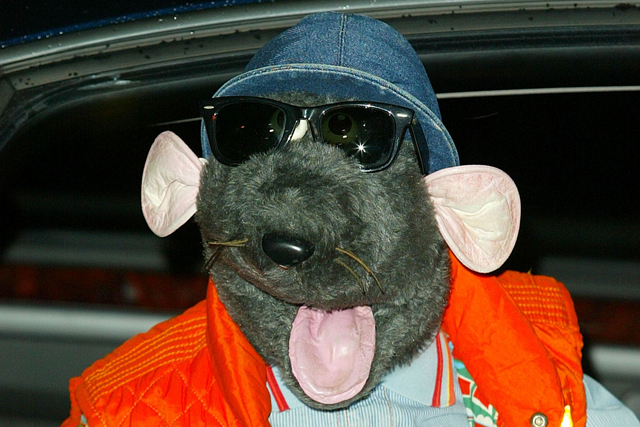 His apologists, though, might argue that if the wise-cracking puppet hadn't been instrumental in winning back the viewers - and the advertisers - who had deserted the breakfast station in droves during the 80s, it might have slipped beneath the airwaves considerably sooner than it did.
Today, the Roland Rat story has become wrapped in myth. He didn't single-handedly save TV-am but was one of a raft of reforms, from bingo numbers to horoscopes, introduced by its then editor-in-chief, Greg Dyke. Nor was he Dyke's idea. His creator, David Claridge, had already taken the concept to TV-am before Dyke's arrival, though it was Dyke who realised Roland's potential.
Certainly, TV-am's plight when he moved across from London Weekend Television in 1983 called for desperate measures. It was heading for bankruptcy with viewing figures so low that, according to Dyke: "If two old ladies turned us off, that'd be it - gone!"
The station was in trouble because many of the consortium members, who had adopted a hard-news strategy, mistakenly believed that they knew how TV worked because they were regularly in front of the cameras.
What one critic called a "jumbled, unpalatable potpourri" was an instant turn-off. Just 800,000 viewers tuned in for TV-am's debut in February 1983. This was the minimum number it needed to break even with anticipated income from advertisers. By the fourth week, the figure had slumped to 300,000.
Dyke's arrival came in the wake of an overhaul that led to the departure of consortium members including Peter Jay, Angela Rippon and Anna Ford. "They had a rather pompous view of it," Dyke recalled, whose bonus depended on pushing viewing figures past a million. "The people most likely to watch breakfast TV were parents and kids."
Cue Roland Rat, his friend Kevin the Gerbil and their Spectacular Shedvision Show, allegedly broadcast from a hut atop the station's Camden Lock studios.
The result: a huge boost in viewing figures to 1.75 million, levelling off at just above a million when the rodent was off air.
TV-am was saved, at least for the time being, and Dyke's future was assured - even though The Sun would routinely refer to him afterwards as "Roland Rat's dad".
Things you need to know
- TV-am never managed to overcome its fundamentally weak financial structure. In 1991, it lost its franchise to Sunrise Television, which later changed its name to GMTV. Its final broadcast was on 31 December 1992.
- Soon after leaving TV-am, Dyke returned to LWT, making a fortune when Granada bought it. His four-year stint as the BBC director-general ended when he resigned in January 2004 in the wake of the Hutton Report.
- Roland Rat later got his own BBC One series. He's now based in Los Angeles but recently indicated he could be tempted back to rescue ITV's Daybreak breakfast show.