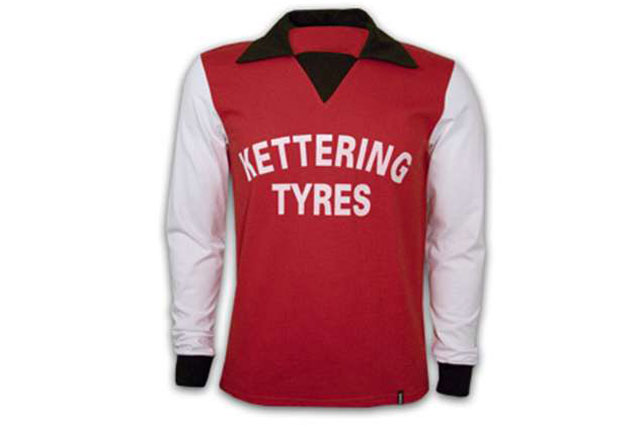 Which is probably just as well, because it was his tenacity and sheer bloody-mindedness that started the process that saw English football dragged out of the dark ages, thereby opening it up to previously undreamed of marketing opportunities.
It's a common misconception that Liverpool was the first English club to take the national game along this path, when it signed a shirt sponsorship deal with Hitachi in 1979, thus paving the way for the current 2010/11 season in which the 20 Premier League clubs enjoy brokered shirt deals worth almost £100 million.
In fact, the first such deal took place many miles from Anfield, in the far more humble surroundings of Rockingham Road, Kettering.
On 24 January 1976, Southern League Kettering Town became the first British club to play with a sponsor's name on its shirts, after signing a deal with Kettering Tyres, when its players turned out against Bath City.
The "four-figure" agreement had been brokered by Dougan within a month of his appointment as the club's chief executive. The FA immediately ruled the move offside and ordered the slogans to be removed, despite Dougan's claim that the game's national rulers had never put their 1972 ban on sponsorship in writing.
"I find it inconceivable that petty-minded bureaucrats have only this to bother about," he complained at the time.
In response, Dougan tried nutmegging his opponents. He changed the wording on the shirts to "Kettering T", and claimed that the T stood for "Town". But the FA was having none of it, and ordered the club to do what it was told. Faced with the prospect of a £1,000 fine, Kettering relented.
But the FA's victory was a Pyrrhic one. Kettering, backed by Bolton Wanderers and Derby County, subsequently lobbied the FA to allow shirt sponsorship, and in June 1977 the ban was lifted.
However, the Football League initially limited the size of sponsors' names in order to placate fans, and not to fall foul of the BBC's rules about advertising messages appearing during its broadcasts.
Alas, in the end it was of little comfort to Kettering, which failed to find a shirt sponsor for the following season.
THINGS YOU NEED TO KNOW
- Premier League club shirt deals are worth £99.75 million, but three quarters of that is split between Manchester United, Chelsea, Spurs, Manchester City and Liverpool.
- Blackpool's deal with the money-lending company Wonga.com is worth just £500,000 a season.
- A 1995 Premier League survey found that three out of ten fans thought products associated with their club to be "more attractive".
- On leaving Kettering Town, Dougan returned to his former club, Wolves, but was unable to halt its decline. He wrote several books and was planning another when he died, aged 69, of a suspected heart attack in June 2007.