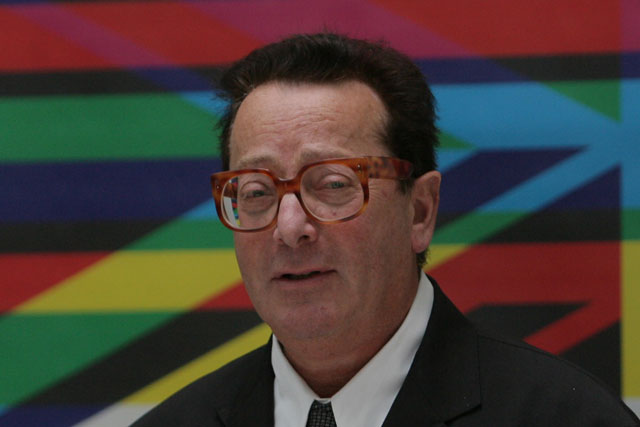 Film buffs will recall that, long before the actor adopted rimless-style specs, he wore those similar to the ones the M&C Saatchi founding partner now sports when he played the British secret agent Harry Palmer - "the thinking man's James Bond" - in three 60s thrillers: The Ipcress File, Funeral In Berlin and Billion Dollar Brain.
Whether or not the fact that Palmer was the creation of the one-time agency art director Len Deighton had any bearing on any of this, we'll never know.
"Whenever I was at an airport, I kept being approached by beautiful girls asking for my autograph because they thought I was Michael Caine," Saatchi remembers.
"Then disaster struck when Caine got rid of his glasses. I, though, kept mine. I rather think they suit my personality."
No matter that one newspaper suggested his heavy-rimmed eyewear makes him look like a 60s record producer. They are indelibly associated with just one man along with black Kenzo suits and immaculate white shirts.
When he was ousted in a boardroom coup from the group bearing his name in 1994, Private Eye carried the sardonic headline: "Man with glasses leaves job."
Early pictures of Saatchi as an aspiring adman show him in owlish-looking rounded glasses. His change of style came when he bought a pair of tortoiseshell-framed sunglasses while in New York.
Later, having been shortsighted since the age of 11, Saatchi chose to keep the tortoiseshells for everyday use. "My eyesight is actually very bad and I thought they gave me a rather intellectual and professorial air," he says.
Today, because the lenses are so big, Saatchi has his glasses - he has up to five pairs - made specially for him by a company in Japan. How much do they cost? He isn't prepared to say. It seems safe to assume, though, that compared with Specsavers, the price is positively eyewatering.
THINGS YOU NEED TO KNOW
- David Kershaw, the M&C Saatchi chief executive, says: "When we open an office, the first picture we put up is a picture of Maurice, the man in big glasses."
- Saatchi has an estimated personal fortune of more than £130 million.
- People say his glasses are symbolic of his studious nature. Quieter and shyer but more academically gifted than his brother, Charles, Maurice won a place at the London School of Economics, where he gained a first-class honours degree in sociology.
- Saatchi's first job was at Michael Heseltine's Haymarket, where he worked as a junior assistant helping to launch Campaign.