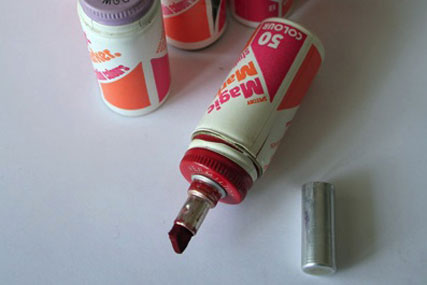 And no smell could be said to be more closely associated with adland than that of the Magic Marker, which was so distinctive and pungent that visitors could even catch it in the agency reception.
The mass invasion of creative departments by the Mac in the early 90s led to Magic Markers being banished from agencies virtually overnight. Yet although they're almost gone, they're not forgotten by a lot of senior creatives. And not just because of the "high" that the regular whiff of them could give you.
"It was just like sniffing glue," one veteran creative director reminisces. "No wonder so many of our art directors had such flaky demeanours."
Magic Markers looked the functional objects they were always intended to be - chubby, squat bottles with a wool felt wick and a writing tip. They could put a mark on almost any surface. Their only drawback is that once your shirt suffered a Magic Marker stain, no amount of dry cleaning could remove it.
Yet despite a lack of respect for its user's attire, the Magic Marker remains much lamented even in this digital age. "I doubt there's a creative over 40 who doesn't get a pang of nostalgia when they remember them," Gerry Moira, Euro RSCG's director of creativity, says.
Indeed, Magic Markers still draw a loyal, if small, number of devotees within the business. Brian Watson, the veteran creative who has written and directed hundreds of ads for the Daily Mail, says he still uses them for his storyboards.
So why do Magic Markers retain such a strong affection? Creatives who remain their fans argue that clients tend to be more flexible when they see rough layouts done with them rather than a fully made-up version produced by a Mac.
Watson even argues that no aspiring creative should be allowed to work on a Mac until they've fully mastered how to produce roughs using Magic Markers.
Moira believes that, in dispensing with the Magic Marker, the industry lost its unique brand of personally produced creativity. "There was always something special about work you did with your own hands," he says. "Now we'll never get that genie back in the lamp."
THINGS YOU NEED TO KNOW
- Sidney Rosenthal, a New York inventor, began marketing Magic Markers through his company, Speedry Chemical Products, in 1952. Within six years, they were in widespread use for lettering, labelling and creating posters.
- In 1966, under pressure from intensified competition, Rosenthal changed the name of his company to Magic Marker Corporation. It filed for bankruptcy in 1980.
- In 1989, Binney & Smith, best known for its Crayola products, bought the rights to the Magic Marker name because of what it said was remaining high consumer recognition of the brand.