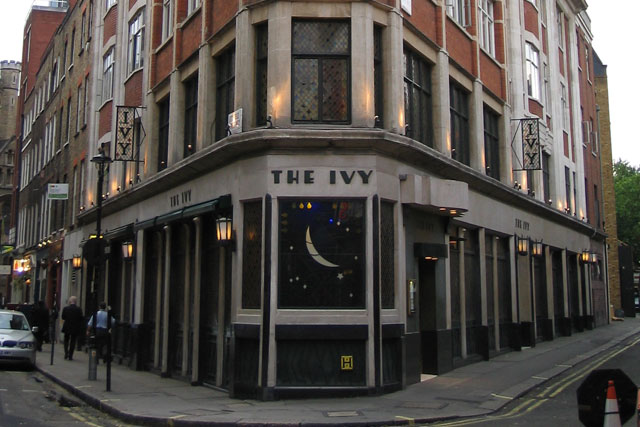 The only ones who know for certain are The Ivy's managers. And they've always been much too discreet to let on. It seems that the only indication you have that you've made it into the charmed circle - and to the top of the marcoms pile - is when you don't have to wait weeks for a booking or settle for an unpopular table at an awkward time of day.
There's an apocryphal - but almost believable - story of an assistant commissioning editor for a major TV channel who was refused a table having been told: "We're only taking bookings from commissioning editors right now."
With its wooden panelling, banquette seats, specially commissioned paintings and modern English food, The Ivy is the place where advertising's glitterati like to hold up a mirror to themselves and sometimes to make a defiant statement. Within hours of his suspension from Lowe London amid allegations of improper conduct in 2006, Garry Lace was holding court at The Ivy. "Everybody was going up to him and wishing him well," another diner remembers.
If The Ivy's walls could talk, what tales they would tell of hirings, firings, mergers and account switches. Adam & Eve, the most successful agency start-up of recent years, was born behind The Ivy's stained glass. And it was here, according to Peter Scott, that he set about persuading his old agency partner Robin Wight that he should buy WCRS out of Havas, paving the way for the Engine group's formation.
The Ivy's elevation to adland's restaurant-of-choice goes back 20 years and its acquisition by Jeremy King and Chris Corbin. They had bought Le Caprice in 1981 and had built up a media-oriented clientele that followed them from Mayfair to Soho.
Now the media big cheeses have been locked in even tighter with the opening of The Ivy's private members' club. According to one such member, the restaurant was attracting too many "Essex boys", so the club keeps The Ivy culture intact.
Naturally, you can only join the members' club if they like the cut of your jib. Those with cash but no class need not apply.
THINGS YOU NEED TO KNOW
The Ivy opened in 1917 as a cafe serving cheap meals for actors in nearby Shaftesbury Avenue. Noel Coward and Marlene Dietrich were among its customers.
When Abel Gianellini, the restaurant's founder, was overheard apologising for some building work, the actress Alice Delysia borrowed the words of a popular song to assure him: "We will cling together like the ivy." The name stuck.
The Ivy's maitre d' is famously discreet, ensuring rival agency bosses are kept apart so they can talk business without the other hearing.
Jeremy King and Chris Corbin sold The Ivy to Signature Restaurants in 1998. It is now owned by Richard Caring as part of Caprice Holdings.