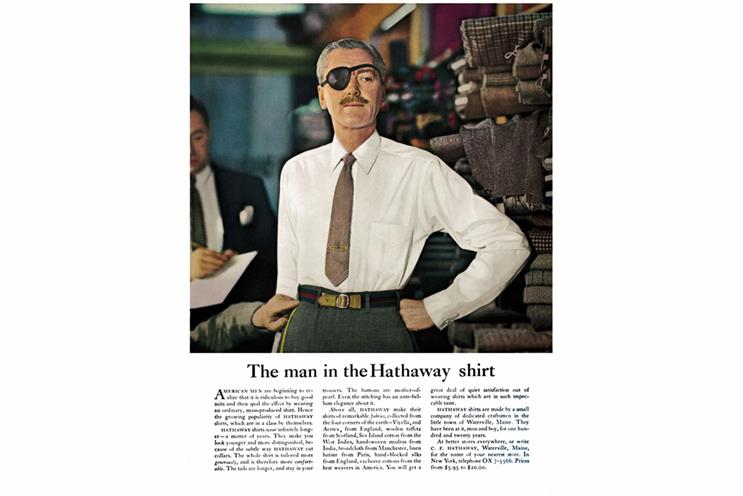 David Ogilvy, on his way to a photo shoot for his new shirt-maker client, stopped off at a New York drugstore to buy a few 50 cent black eyepatches – and unwittingly blazed the trail for a new style of advertising.
It was 1951, and Ogilvy's client was CF Hathaway, a small shirt-maker from Maine. The company, having never advertised before, was planning to spend just $30,000 to compete with much better-known brands.
Ellerton Jette, Hathaway's president, admitted Ogilvy would never get rich handling his account – but he promised he would never fire the agency or change any copy.
Ogilvy knew he must do something unorthodox. Although he had toyed with the idea of using an eyepatch as part of the campaign, it wasn't uppermost in his mind.
Handing over the eyepatches to the photographer, Ogilvy told him: "Just shoot a couple of these to humour me. Then, I'll go away and you can do the serious job."
Later, having seen the results, Ogilvy admitted: "We knew we'd got something."
Without the eyepatch, the Hathaway campaign would have been a simple example of shirt advertising with a well-dressed man shot against an opulent background.
With the eyepatch, the ads had what Ogilvy called "story appeal", arousing reader curiosity. How, they wondered, had the man lost his eye?
The ad's impact was immediate. Its first insertion in The New Yorker cost just $3,176. Within a week, every Hathaway shirt in the city was sold.
Ogilvy claimed to have been bemused by it all. He said of the eyepatch: "For some reason I've never known, it made Hathaway instantly famous. Perhaps, more to the point, it made me instantly famous."