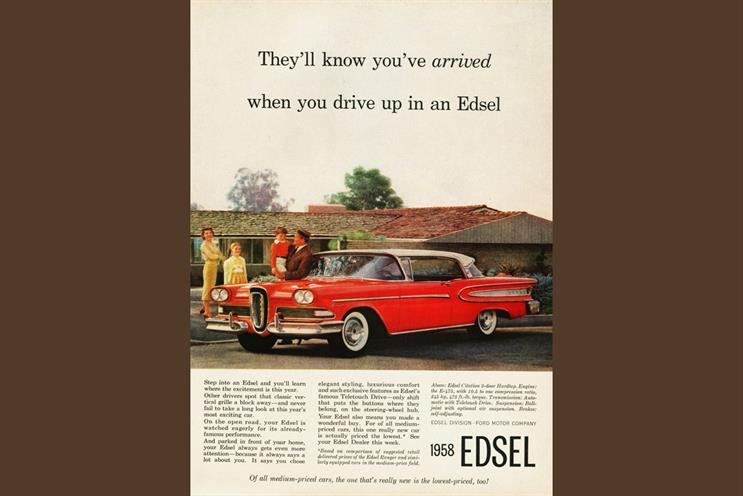 From its debut in 1957 to its axing just two years later, the Edsel was an unmitigated disaster that lost Ford $350 million. Asked what was wrong with the car, Fairfax Cone, a founder at Foote, Cone & Belding, which created the Edsel campaign, later admitted: "Almost everything."
It's hard to know where to begin in analysing why Ford's attempt to enter the lower-to-medium-price market and compete with General Motors so quickly ran out of road.
Big factors were overconfidence, after its success with the Thunderbird model a few years previously, and insufficient attention to market research. As a result, FCB, which won the $12 million Edsel account in a pitch against Leo Burnett, was encouraged to produce ads that were much too self-assured.
In the run-up to the launch, FCB ran a teaser campaign that promised "The Edsel is coming", and primetime TV exposure was achieved when Ford and CBS produced The Edsel Show, starring Frank Sinatra and Bing Crosby.
But the Edsel failed to match the hype. Consumers didn't like the name. The company rejected FCB's alternatives including Corsair, Citation, Pacer and Ranger, and named it after Henry Ford's son instead. Cone believed the name would be "the kiss of death".
The disaster was compounded as the launch coincided with a downturn in the US economy that caused drivers to switch to smaller European imports. And, despite the build-up, the Edsel turned out to be an unusually styled but otherwise conventional car.