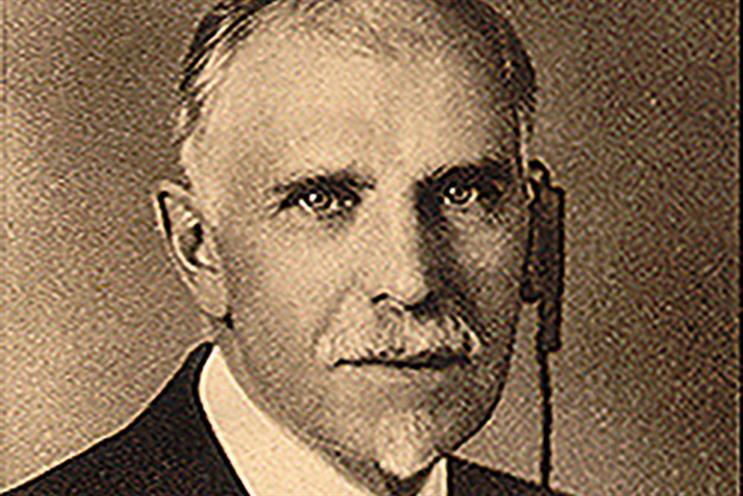 Doyle Dane Bernbach opened in 1949 while Collett Dickenson Pearce was born in 1960. Wieden & Kennedy, Crispin Porter & Bogusky and Bartle Bogle Hegarty are all children of the 80s.
However, there is one agency with a compelling claim to be the world's first creative hotshop. It launched in 1902.
Its catalyst was Earnest Elmo Calkins (pictured) – and a more unlikely advertising iconoclast would be hard to find. For one thing, a childhood bout of measles had left him profoundly deaf.
For another, despite becoming an outstanding copywriter, he was one of the first to see that fancy words were not enough and that stunning visuals were needed to grab the attention of consumers.
Calkins began creating ads while working in a print shop in Illinois but his life changed when he won a contest with an ad for a small hardware dealer.
One of the contest's judges was Charles Austin Bates, a pioneer copywriter and New York agency boss, who offered Calkins a $15-a-week copywriting job.
However, Calkins was soon clashing with the agency's art department (one of the few operating at the time) over his ambitious and expensive ideas about how ads should look.
His growing frustration resulted in him breaking away with Ralph Holden, who was in charge of new accounts, to launch Calkins & Holden.
From the start, Calkins hired talented artists and illustrators to help fulfil his ambition of making advertising akin to fine art. At the same time, his agency introduced innovations including the first overall campaign strategies.
And while many advertisers were buying large blocks of advertising at the cheapest possible price, Calkins was among the first to convince clients that it was the quality of the ad rather than its size that mattered.