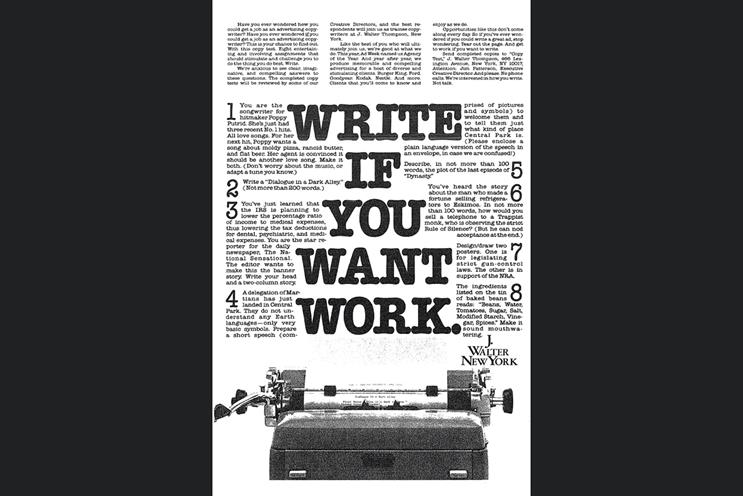 If you were applying for a copywriting job in the 60s, the chances were that you would be shown into a room the size of a broom cupboard, given a pencil and paper, presented with a brain-teasing question like one of those above and given an hour to answer it.
In the days before creatives arrived for jobs from adver­tising degree courses, the copy test was the way many agencies attempted to find copywriters with the right kind of quirky imagination.
Eventually, the copy test was regarded as having outlived its usefulness, with a grasp of grammar and syntax not seen as a necessary prerequisite to being a good copywriter. Also, writers and art directors began arriving at agencies as teams with portfolios to attest to their talent.
What's more, the test could backfire spectacularly. A story that's now part of advertising folklore concerns the late Allen Thomas, J Walter Thompson's one-time worldwide creative director.
He had been sifting through a pile of candidates' responses to the question: how would you describe a piece of toast to an alien in 25 words or less?
One answer knocked him sideways. It read: "Billi hubba boo bi bubba hoo boo hub bi hub billi boo."
Thomas was sufficiently impressed to hire the writer immediately. Some time later, he asked the creative department how he was getting on, only to hear that he had been fired.
"Oh dear. What happened?" Thomas asked. "We gave him a brief to do a poster for Mr Kipling's new home-baked blackcurrant tarts," he was told. "And all he could write was 'billi hubba boo billi bubba hoo'."