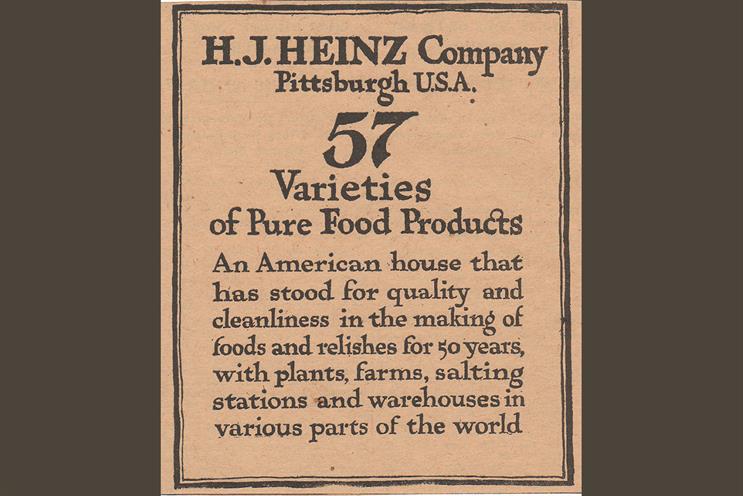 And nothing fixed the HJ Heinz company more firmly in consumers' minds than its "57 varieties" campaign that remains as synonymous with the food company now as when it was launched.
But what was the significance of 57? Even when the claim was first made more than a century ago, Heinz's operation was already producing more than 60 varieties.
The campaign seems to owe its origin to a couple of events. One was Henry Heinz's mysterious obsession with the number 57. The other was a trip on an elevated train in New York by the man soon to become known throughout the US as the "pickle king".
While on the train, Heinz was much taken with an ad for "21 styles of shoes" and thought something similar would work for him.
"The idea gripped me at once and I jumped off the train at the 28th Street station and began laying out my advertising plans," he later recalled.
But if Henry Heinz was obsessed about "57", he was equally gripped by the idea of introducing branding, advertising and packaging to food products.
When he was building his company in the 1800s, most food products were unbranded. Heinz shook things up by harnessing the power of billboards, magazines and even electric signs to differentiate his products as superior to unlabelled rivals. As a result, Heinz became a national brand that consumers instantly recognised.
He also tailored products and prices to target different consumer segments, sold his products in clear glass bottles so customers could see what they were getting and hired artists and writers to comprise what is said to have been the first-ever corporate marketing department.