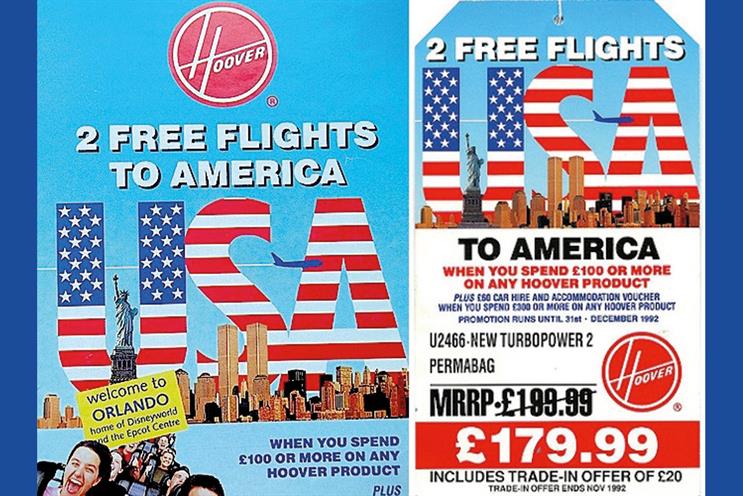 In reality, it was far too flawed to fly and its crash will go down as one of the greatest marketing disasters of all time.
What began as an attempt by a couple of Hoover marketers to drum up sales during a recession and boost them during a traditionally lean pre-Christmas period ended up costing the company £48 million while dragging its reputation through the mire.
With Air Miles-type promotions all the rage, the pair came up with a simple idea: spend at least £100 on a Hoover vacuum cleaner and get two free return flights to the US or Europe.
It seemed too good to be true. Nationwide advertising and marketing efforts were
so successful that, instead of attracting 50,000 applicants, more than 200,000 people bought Hoovers they didn't want.
As a textbook case of how not to run a sales promotion, the free-flights fiasco would be hard to beat.
For one thing, it made no sense to offer a reward valued at £600 for a £100 purchase. For another, the promotion's success was not properly measured. While Hoover's European sales increased dramatically, its bottom line did not. Matters were made even worse when the campaign was extended to the US with TV advertising that declared: "Two return seats. Unbelievable."
As the scheme imploded, Hoover fuelled consumer rage even further by trying to enforce the small print on the vouchers, sparking a series of legal battles with angry customers all over the country.
But perhaps Hoover's biggest mistake was trying to go it alone. As one marketing executive later asked: "How many companies would do an ad campaign without using a professional agency?"