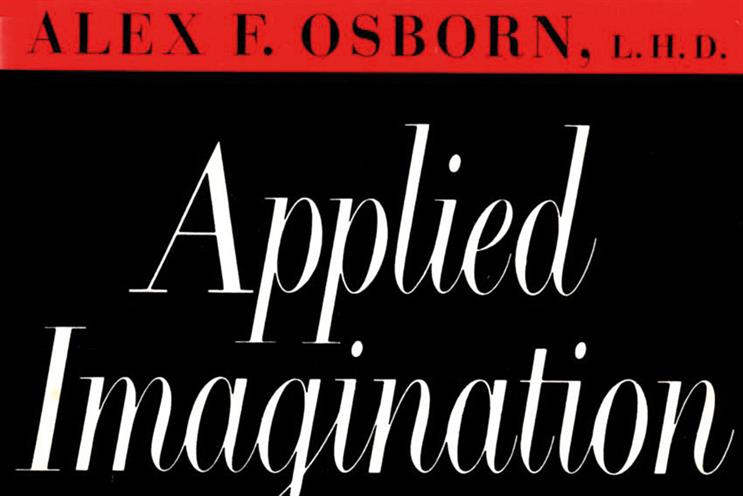 What may not be so well-known is how much of that was owed to brainstorming – and that it was one of the agency's founders who evolved what has now become a widespread practice.
Alex Osborn helped launch BBDO in New York in 1928 (the initials stand for "Batten Barton Durstine and Osborn") and also forged a second career as an author.
And it was in 1957's Applied Imagination that he coined the term "brainstorming".
The ideas in the book were based on the creative process that Osborn and his team used at BBDO. He found that creativity flourished when "brainstorming" was applied. The system was based on four principles: generate as many ideas as possible; defer judgment on all ideas; generate wild ideas; build on each other's ideas.
For Osborn, brainstorming was central. He once described how a ten-strong group came up with 87 ideas for a drugstore in 90 minutes.
He believed that what distinguished brainstorming from other group activities was the absence of criticism and negative feedback. He insisted the process would fail if people were worried that their ideas might be ridiculed.
"Creativity is so delicate a flower that praise tends to make it bloom while discouragement often nips it in the bud," he wrote.
However, he also recognised that brainstorming alone was insufficient for producing truly creative ideas and that creative teams needed to consider facts, ideas and solutions rather than jumping to hasty conclusions.
---
Things you need to know
Brainstorming helped turn Osborn into an influential business guru. He went on to write bestsellers that included Wake Up Your Mind and The Gold Mine Between Your Ears.
A number of academic studies have poured cold water on brainstorming. They claim brainstorming groups think of far fewer ideas than the same number of people who work alone and later pool their ideas.
Osborn died of cancer in May 1966 aged 77.