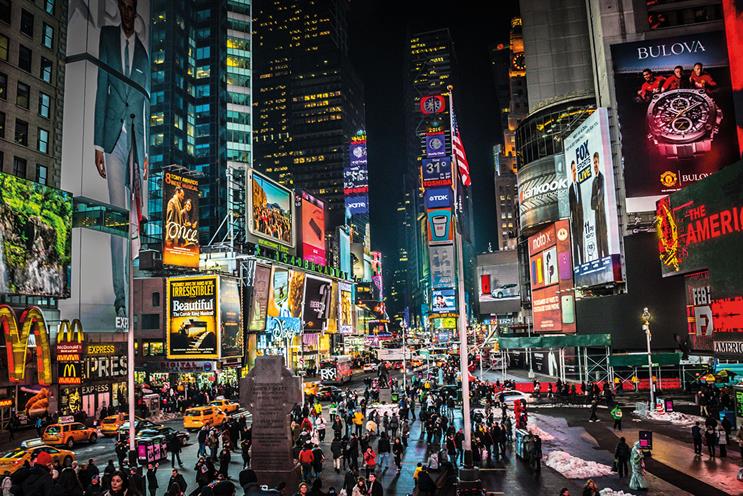 Towering above the Broadway and 42nd Street neighbourhood, these billboards are what has made Times Square an advertising mecca.
It also commands the highest prices for billboards anywhere in the world, generating $60 million a year in revenue. Not surprising, perhaps, given that the ads – some 230 of them, according to a recent count – are seen by up to 500,000 people a day.
Indeed, such is Times Square's determination to put on a good show that regulations require all its buildings to display illuminated ads.
It's a far cry from a day in May 1904 when Times Square – so named when The New York Times moved its operations into a new skyscraper there – showed off its first electrified sign on the side of a bank.
As new theatres began attracting more people to the area and technology improved, Times Square became a good place to advertise and the resulting billboards became known appropriately as "spectaculars".
The best were minor works of commercial art. Such as the Camel cigarette sign that blew steam through a small hole, giving the impression of cigarette smoke; the steaming cup of A&P coffee; and the Super-Suds detergent ad producing 3,000 "floating" soap bubbles a minute.
With handcrafted neon signs having given way to computer-controlled light-emitting diodes and big video screens, the Times Square ad show has never been more spectacular to watch or more expensive to stage.
Not only does the rental space cost a fortune, but the cost of the customised, weatherproof, high-definition LED sign displays that have become so popular can run into millions of dollars.
---
Things you need to know
In 2014, Clear Channel unveiled the biggest billboard in Times Square's history. It was eight storeys high and cost $2.5 million a month to rent. Google was the first to advertise on it.
Times Square's billboards also benefit from exposure on high-rated TV programmes such as ABC's New Year's Eve broadcast.
Douglas Leigh, Times Square's most famous billboard designer, produced a sign that was 90-feet high and a block long for the Bond clothing store.