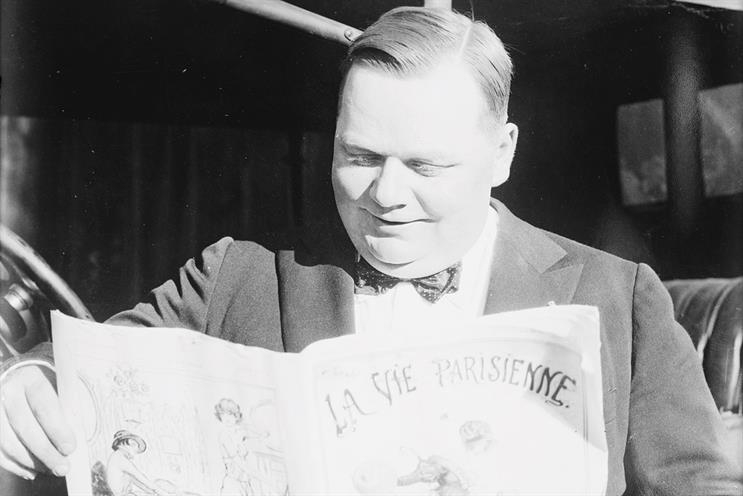 One was Maynard Nottage, the hard-drinking and womanising pioneer of Tinseltown's great publicists and a master of ballyhoo who made celebrities out of stars of the silent screen.
The other was one of those stars – Roscoe "Fatty" Arbuckle, then working in vaudeville, for whom Nottage brokered the first recorded celebrity endorsement in support of Murad, a brand of Turkish cigarettes, in 1905.
However, Nottage, who also got the comedian Harry Bulger and the actor John Mason involved with the Murad campaign ("the natural preference for cultivated men"), wasn't satisfied that it had fulfilled its potential.
"I wanted to take it further and get them on the stage smoking," he wrote later. "Printed paper is all very well but it didn't have the visceral impact of seeing the guy you've come to the theatre to see on stage drawing in a cloud of smoke every night and saying a few sage but enthusiastic words about the product."
According to Nottage, Murad was keen on the idea but Arbuckle (pictured) and the others would have none of it, saying that they didn't want to spoil their voices.
"The whiners," Nottage complained. "They couldn't see how much money there was in it – couldn't see further than their next pay cheque."
Arbuckle was certainly no enthusiastic endorser of Murad. "You can make me praise them in print but don't make me smoke 'em," he told Nottage. "I gotta career to think of and it's a live show. What if I cough? They'll stop the money for sure. And those things make me cough."
---
Things you need to know
Nottage died an alcoholic in 1965, having become forgotten by Hollywood studios. In 2008, Dustin Hoffman expressed interest in playing the lead in a film about his life.
Arbuckle's career ended in scandal when he was accused of raping and murdering a young actress. The publicity ruined his reputation and the legal fees drove him to poverty.
Murad's popularity faded in the 30s as Camel, Lucky Strike and Chesterfield began dominating the US cigarette market.