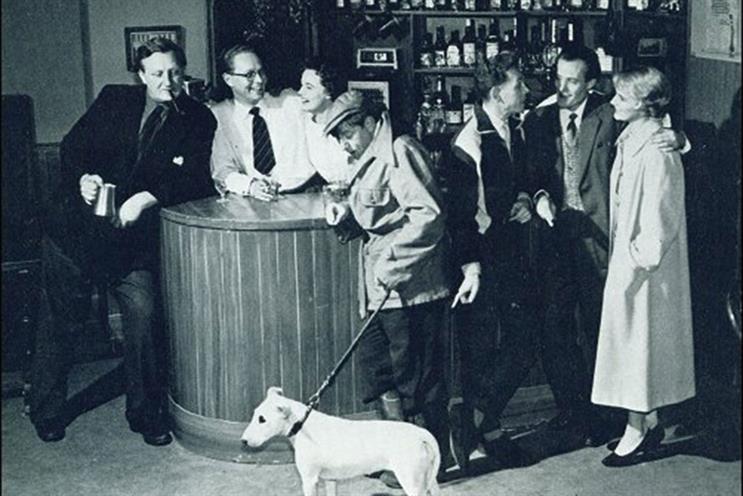 Shoppers' guides, a regular feature of commercial TV during its 50s infancy, were for brands unwilling or unable to pay the price of regular TV advertising. The most famous was Jim's Inn, which ran from 1957 to 1963 featuring the actor Jimmy Hanley and his real-life wife, Maggie.
Despite being an advertising vehicle, Jim's Inn assumed soap-opera status, with the Hanleys presiding over a fictional pub that in many ways was a precursor of the Rovers Return in Coronation Street.
The customers were a group of stock characters – from a spiv to a brassy beauty-salon owner and a pensioner – who talked about and used a variety of products from Player's cigarettes to coats bought in a local department store.
Compared with the high production values of many of today's soaps, Jim's Inn, whose 15-minute weekly episodes went out live, were done very much on the hoof.
The actors had so little time to learn their scripts that a huge glass ashtray was put on the bar under which information about more complicated products was concealed.
What's more, things often went wrong. One character was so eager to demonstrate the qualities of a new non-drip paint that he splashed it all over the studio floor.
While viewers loved ad-mags, they proved highly controversial. The BBC argued that ad-mags blurred the distinction between ads and proper programmes and – heaven forbid – opened the door to US-style sponsorship.
The Pilkington Committee, set up in 1960 to report on British broadcasting, agreed and ad-mags were banned under a 1963 act of parliament, having been deemed unfair and misleading.
---
Things you need to know
Jim's Inn had become so popular that Associated Rediffusion, which produced some 300 editions, claimed it was rivalling the popularity of BBC favourites such as The Archers.
One edition of the show promoted a coat sale at a Peckham department store. By the following morning, the shop was besieged by customers.
After the demise of Jim's Inn, the Hanleys continued their on-screen partnership as the same characters in a series of ads for Daz.