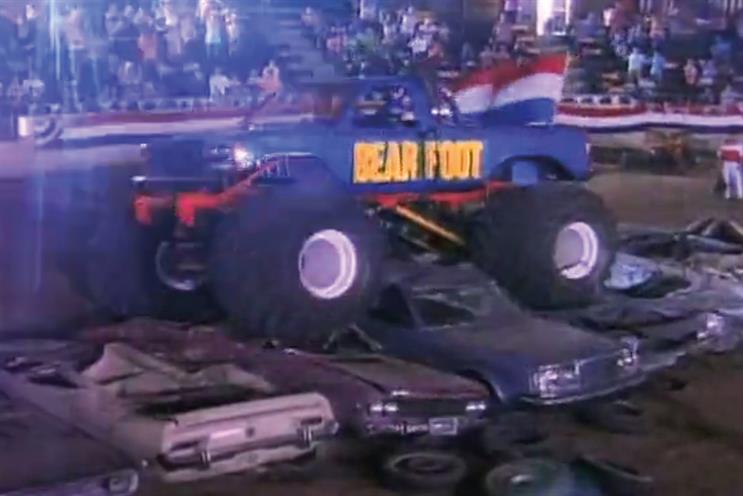 It almost flattened the transatlantic reputation of the Swedish car-maker Volvo, forced the agency that had created the spot to resign Volvo's $40 million US account after 23 years and sent the reputation of the US ad industry tumbling.
Why? Because the commercial, meant to demonstrate Volvo's renowned safety record, was rigged and condemned as "a hoax and a sham" by a US state prosecutor.
Volvo's confident position on safety grew out of a discovery by its engineers that the strengthened pillars in any Volvo were strong enough to support the weight of six cars stacked on top of it.
Having capitalised on this in US print campaigns, Volvo briefed its US agency, Scali, McCabe, Sloves, to extend the idea to TV.
Filmed in front of a paid audience in Austin, Texas, the commercial showed the monster truck wrecking a line of cars except for a lone Volvo.
However, the ad's impact quickly went flat when reports emerged that the Volvo had been artificially reinforced and that structural pillars in the other cars had been cut out or removed.
A massively embarrassed Volvo, having admitted that modifications were made to the Volvo for safety reasons and "for the purpose of filming", was forced to withdraw the campaign, publish press ads apologising for it and pay a Federal Trade Commission fine of $150,000 for misleading advertising.
However, the damage to Volvo in the US was far greater than a fine and a public humiliation. The blunder proved a huge gift to Japanese car-makers, which were beginning to get a toehold into the US family-car market.
---
Things you need to know
Five months after the scandal broke, SMS resigned the Volvo account with the loss of about 50 agency jobs.
Volvo Cars of North America got the idea for a safety-focused campaign in the US after finding that 54 Volvos awaiting unloading from a ship at Mobile, Alabama, had suffered only minimum hurricane damage.
In 1993, SMS was bought by Interpublic's Lowe Worldwide for $55.5 million and merged into Lowe and Partners.