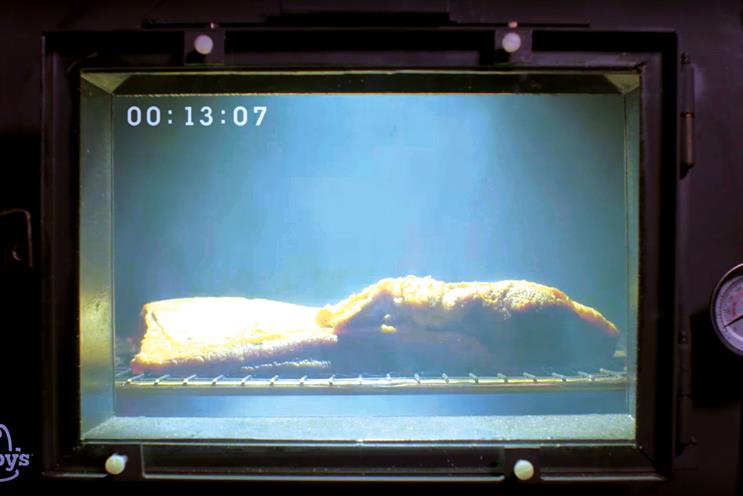 What's the length of the longest TV commercial ever made? No points for saying "Dance", the Saatchi & Saatchi spot for T-Mobile featuring 350 dancers at London's Liverpool Street station.
At two minutes, 40 seconds, it lays claim to be the longest British TV ad of modern times. A good effort if you said the 60-minute commercial that Nivea ran on Swiss TV in 2011 made up of more than 1,000 user-generated videos.
Better still if you came up with the 1998 ad for Spaas candles created by McCann Erickson in Brussels, which ran for a mind-boggling seven hours, 22 minutes.
But the points are yours if your answer was a Fallon production for Arby's, the US sandwich shop chain, which made its debut on KBJR-TV in Duluth, Minnesota, on 24 May 2014.
The company wanted to find a way of highlighting its dedication to the creation of its signature beef brisket sandwich, which undergoes hours of cooking before being served. The upshot was a commercial consisting largely of a single shot of a raw beef brisket being smoked over the course of 13 hours before being removed from the smoker and used to make a sandwich.
Not surprisingly, the film was made to attract some social media buzz. But it now also has a place in the Guinness World Records as the longest-running TV commercial.
Its total duration is 13 hours, five minutes and 11 seconds. While no reports suggest anybody watched the commercial in its entirety, Arby's claimed that almost 350,000 people tuned in with an average viewing time of 38 minutes.
Meanwhile, a 2002 commercial for MuchMusic, a Canadian music channel, is said to be the world's shortest. It lasts one-sixtieth of a second.
Things you need to know
The Arby's commercial was scheduled to run during the slow period of a holiday weekend when airtime was not very expensive.
The agency feared the battery on the camera would run out before the meat was cooked. Had that happened, the shoot would have had to be repeated.
The European Commission announced a month before the UK Brexit vote that it wanted to end restrictions preventing TV broadcasters showing more than 12 minutes of commercials an hour.