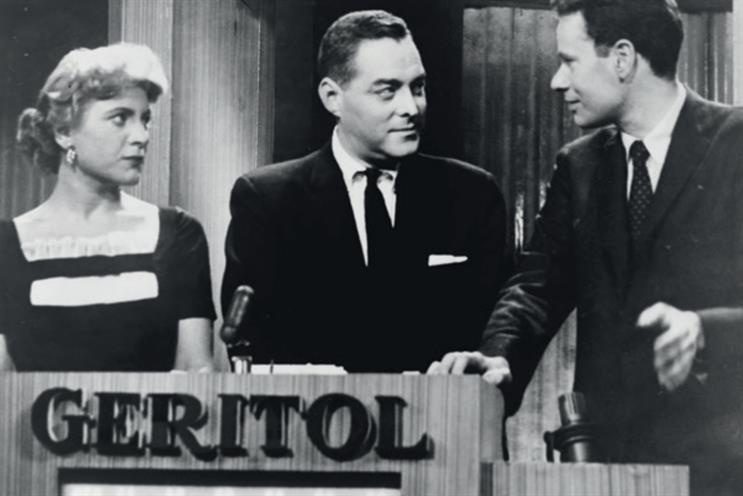 Yet, by the decade's end, that influence had been blown apart by a massive scandal that shook the US public's confidence in TV just as it was emerging as the nation's biggest advertising medium.
What precipitated the scandal was the quiz-show craze that was gripping US TV audiences at the time and a bright, good-looking Columbia University lecturer, Charles Van Doren. For 15 weeks, Van Doren had transfixed the country with his barnstorming performances on NBC's Twenty One quiz show, one of dozens that were clogging the airwaves.
Not only were they huge hits with viewers who loved watching the battles for big jackpots but also with the networks because they were cheap to produce.
Moreover, advertisers were eager to sponsor such ratings winners where their logos featured prominently throughout the shows. It also meant advertisers were able to influence the shows to such a degree that many were rigged.
Martin Revson, executive vice-president of Revlon, which sponsored The $64,000 Question, indicated at weekly meetings which contestants he wanted to win. But the lid was spectacularly blown off these arrangements in 1959 when two whistleblowers, including a former Twenty One champion, revealed that the shows were fixed.
This was confirmed by Van Doren at a congressional sub-committee where he admitted he had prior knowledge of the questions he would be asked and was instructed on how to be more "entertaining" with his answers.
Alarmed by threats of greater regulation, the networks began following the UK system by breaking airtime into 30-second spots and limiting the amount of control advertisers could have over programme content.
Things you need to know
Van Doren lost his job at Columbia and became a national pariah after his confession.
Ralph Fiennes played Van Doren in the 1994 Robert Redford movie about the scandal, Quiz Show. Van Doren turned down $100,000 to be a consultant.
In 1958, ITV pulled its version of TwentyOne after a contestant claimed he had been given "definite leads" to the answers.