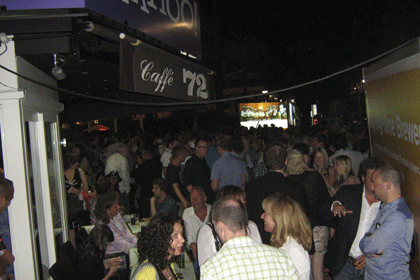 Chances are that only a small number of adfolk know it by its real name, Croisette 72. And for most weeks of the year, the place quietly plies its trade as a cafe, bar and brasserie, praised by its regulars for its friendly service and excellent pasta.
But when adland heads to Cannes, Croisette 72 morphs into its altogether more decadent and racier alter ego, the Gutter Bar.
An evening out at the festival may begin at any number of restaurants, bars or sponsored parties, but it's a safe bet that most will end at the Gutter Bar, where the drinking goes on until the sun rises, or oblivion sets in.
Ironically, the Gutter Bar sits across the street from the art deco Hotel Martinez, once the festival's undisputed fun palace. Indeed, the Martinez once boasted to The New York Times that it sells more alcohol during the week when the adfolk hit town than in the two weeks of the film festival.
While that's probably still the case, it's the upstart Gutter Bar where the real action takes place. Indeed, there's a running joke that, once the adfest ends, the owners of the bar are so flush that they close for the rest of the summer.
The Gutter Bar is said to have been given its nickname by journalists many years ago. Certainly, it's an apt sobriquet for a place where noisy late-night crowds spill out on to the pavement.
Somewhat inevitably, it owes its notoriety, and its profits, to the festival's British and Australian contingents, who only began drinking there because it was cheaper, leaving the Germans and Scandinavians to take over the social scene at the Martinez.
Things you need to know
The habit of the Gutter Bar crowd of spilling out on to the road so annoyed one driver that he clouted a senior Procter & Gamble executive with a bottle.
The clientele of the bar has moved on from when it was the haunt of those principally looking for cheap booze. Michael Roth, the Interpublic chairman, has been spotted there, drinking and joking into the early hours.
A group of UK adfolk so enjoyed their time at the 2005 festival that they decided to transplant its spirit back to London with an "I Can't Believe It's Not Gutter" party. Guests drank Zilli on Dean Street dry of rose by 10pm.