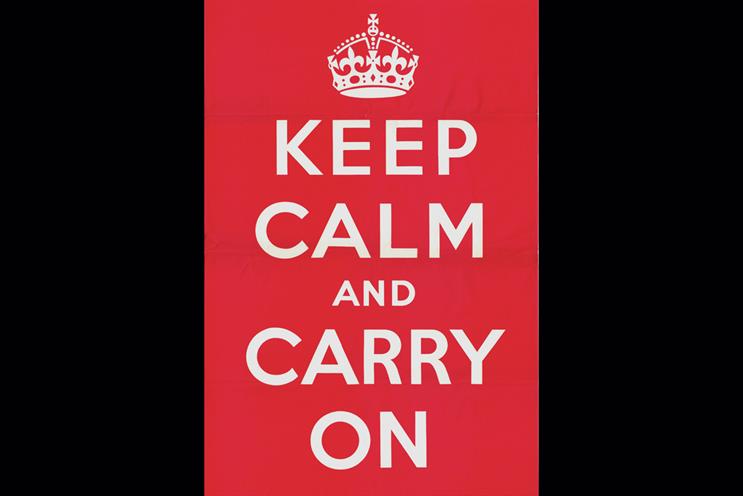 How ironic that "Keep calm and carry on", a poster created to calm Britons' nerves at the outbreak of war (and which never saw the light during those dark days), should find its message having such resonance in these economically beleaguered times.
The poster, now reproduced on millions of tea towels and coffee mugs, is actually one of the few remaining manifestations of campaigns from a time when adland did its bit for the war effort.
"Keep calm and carry on" was commissioned in 1939 by the Ministry of Information, fearful that the bombing of London and other major cities by the Luftwaffe would demoralise the population and cause mass panic.
It was to have been circulated in the event of an imminent invasion by German troops. After the Battle of Britain, however, it was binned.
This is a blockquote
Advertising by the wartime government was a mixture of the familiar – there were campaigns encouraging child vaccination, road safety and blood donation – with the odd. Among the odd were ads to encourage mole-catching, banish defeatism and curb gossip.
Agencies were chosen by the Advisory Committee on the Appointment of Advertising Agencies, which met at least once a month throughout the war. Meanwhile, the Newspaper Society rallied to the cause by giving the government extra rate discounts.
Competing agencies often looked for ingenious ways to get around wartime shortages. One bidding for an outdoor poster
contract told the ministry it had an "adequate and efficient staff of inspectors provided with cars". So, no doubt, it would be getting extra petrol for them.
The ACAAA went out of its way to get the most effective work. It would often ask agencies to work together in the belief that smaller shops could not handle assignments on their own but needed to be "protected" by the larger ones.
It even lobbied for "the best men in advertising" to be exempt from military service. The government agreed that they could be "temporarily reserved".
It is really important that you read and take notice
However, the ACAAA caused controversy when it suggested in 1941 that, because of US support for the British war effort, government contracts should be opened up to US-owned agencies.
The Ministry of Information was worried that jobs might be lost. But the ACAAA's case was accepted, with JWT among the first US operations getting to tender.