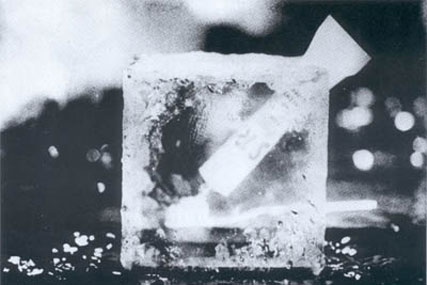 Programmes kicked off at 8pm and, within a few minutes, a 70-second spot for Gibbs SR toothpaste became the first TV commercial to be screened in the UK.
Created by a 26-year-old Young & Rubicam copywriter, Brian Palmer, the commercial owes its iconic status to chance. It had won a lottery against 23 other ads - including those for Guinness, Surf, National Benzole, Brown & Polson custard and Summer County margarine - for the chance to go first.
More than half-a-century on, the ad remains etched on the collective memory - a tube of toothpaste sits embedded in a block of ice as a young woman vigorously brushes her teeth, while the beautifully enunciated tones of the TV presenter Alex Macintosh announces: "The tingling fresh toothpaste that does your gums good too. It's tingling fresh. It's fresh as ice. It's Gibbs SR toothpaste."
Not surprisingly, the first commercial had a difficult birth. "We used a real block of ice for the long shots," Palmer remembers. "But the ice started to melt under the studio lights. Also, the ice block steamed up, so you couldn't see the tube of toothpaste inside, which was the whole point. So we used a plastic tube for the close-ups."
Because its audience was small, the ad had little impact on Gibbs SR sales - but it did have churchmen, teachers, academics and politicians queuing up to condemn TV advertising as crass and vulgar.
There was no critic fiercer than the Labour MP John Wilmot, who warned the Commons that "the nightly poison of advertising which boosts the sale of goods to the working class is against the national interest".
Safeguards put in place by the Television Advisory Committee eased public fears while the then Postmaster General, Charles Hill, assured the sceptics: "We shall not be bothered by a violinist stopping in the middle of his solo to advise us of his favourite cigarette brand."
THINGS YOU NEED TO KNOW
ITV's first night's advertising generated £24,000, which was earmarked for charity. Total TV ad revenue for 1955 was £2.4 million.
Early restrictions banned any TV advertising for undertakers, money lenders, smoking cures or treatments for alcoholism.
In November 2010, ITV reported an 11 per cent year-on-year increase in ad revenues for the first nine months to £1.45 billion.
Brian Palmer, having been told by his boss at Y&R that "You're mad, TV will never be a major medium", went on to become the agency's head of TV operations. He later founded his own agency before retiring to begin a new career as an artist. He is best-known for his hand-tinted etchings.