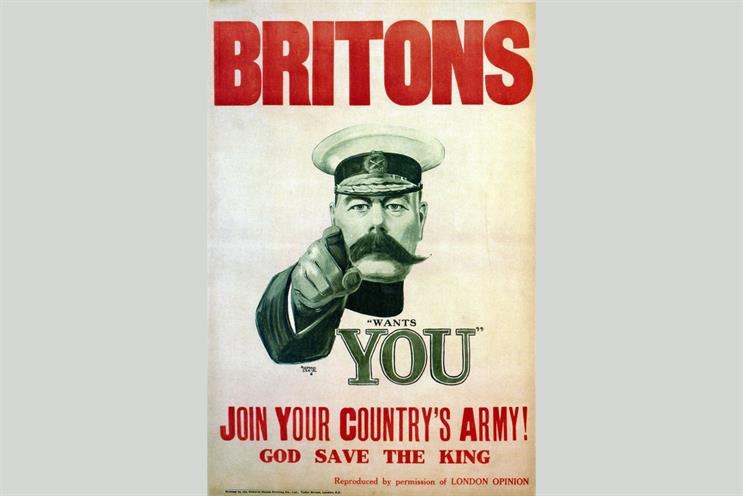 As Britain prepares to mark the centenary of the start of the Great War, nothing seems to encapsulate the period more than the poster depicting a finger-pointing Lord Kitchener and his appeal to "join your country's army".
So memorable has the image proved that a panel of advertising industry luminaries brought together by Campaign in 1999 placed it ninth in their list of the 100 best British ads of the century.
Doubtless much debate surrounded this choice. This, after all, is a poster credited with sending millions of men off to war.
But did it? Apparently not. Research published last year suggests that no such poster was produced during the war and that the Kitchener image has never been used for recruitment. It only became popular after the war's end.
According to the historian James Taylor, the origin of the image goes back to September 1914, when it was used on the front cover of London Opinion. It was designed by the cartoonist Alfred Leete, who adapted a portrait of Kitchener to give him the distinctive pointed finger.
The magazine, with a circulation of almost 300,000, also said readers would be able to buy postcards of the image.
However, no surviving examples of the postcards have been tracked down, leading Taylor to conclude that their role in getting men to join up is "an urban myth".
The image's enduring fame, he suggests, is down to human error. The original artwork from the magazine was acquired by the Imperial War Museum in 1917, where it was catalogued incorrectly.