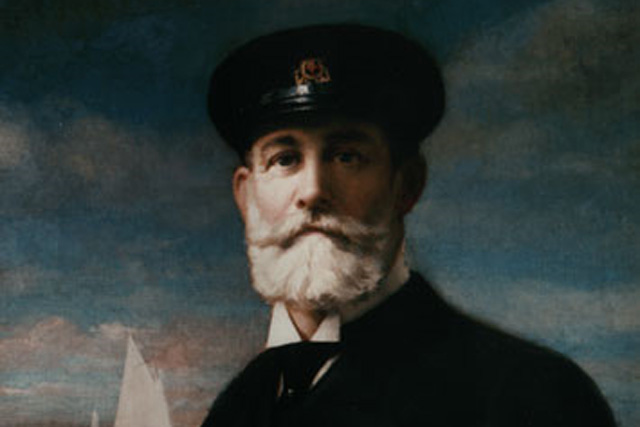 In fact, the old gent bearing a distinct resemblance to Captain Birds Eye and who gives his name to the bar, which is called the Commodore (the "Comm" for short), is none other than James Walter Thompson himself.
Actually, neither the picture nor its subject are all they seem. Although it looks to have been painted during Thompson's lifetime - he died in 1928 - it is really the work of a JWT art director in the 90s.
And while Thompson himself liked to be known as the Commodore, his exalted rank came not from his US Civil War service aboard the USS Saratoga but because he was "Commodore" of the New York Yacht Club.
What's more, Thompson's distinguished bearing belies the fact that he started out as what would now be called a "guerrilla" marketer, fly-posting ads on telephone poles in New York state.
How ironic that, today, he is regarded as among the first to raise the status of admen from that of snake-oil salesmen to marketing professionals. The man who set up JWT in 1896, having paid $500 for the agency that first employed him as a book-keeper, was a pioneer in the appliance of science to the business. Not only did he champion census-based demographic and economic research, he devised the concept of the account executive.
And on realising that he could sell more space if he could also develop content for advertisers, he began hiring writers and artists for what is claimed to have been the first-ever agency creative department.
Thompson was also arguably a trailblazer for the eventual US domination of global advertising. JWT opened in London in 1899 and Thompson, an avid traveller, rarely returned from abroad without having captured an important account. "Any spot on earth where goods are to be sold by advertising is inside the fence of the Thompson field," he declared.
Small wonder that a significant number of the agency's current managers think the agency lost a huge chunk of its heritage when it ditched the J Walter Thompson moniker in favour of JWT in 2005. "It gave a distinctiveness to our brand," one laments.
Things you need to know
- Thompson had originally planned to call his agency James W Thompson. On learning that there were many other businesses in New York with the same name, he opted for J Walter Thompson instead.
- In 1930, the soon-to-be president Franklin D Roosevelt wrote to Thompson asking for a job for his son, Elliott. Roosevelt didn't know Thompson had died two years earlier. Elliott never did work for JWT.
- Thompson sold JWT to Stanley Resor in 1916. Resor remained the chief executive for the next 44 years, stepping down in June 1960, aged 81, when JWT was the world's biggest agency.