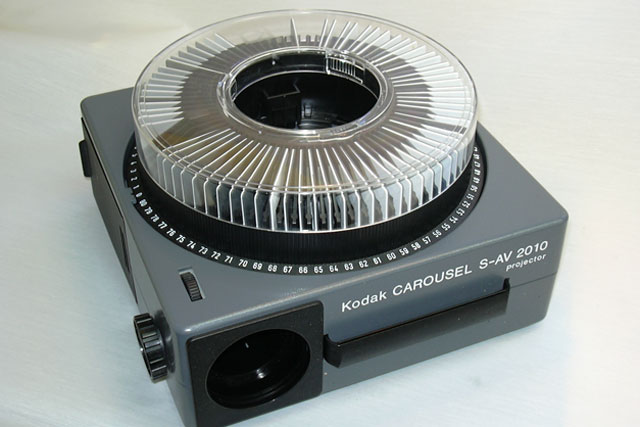 It seemed almost to have a mind of its own. And if it didn't like the way it was being treated, it had a habit of throwing a tantrum and making you look a complete twerp in front of the client you were most eager to impress.
Now that laptops and pen-drives have so dramatically reduced the chances of technical cock-ups at pitches, it's hard to imagine how such a prosaic piece of equipment could make agencies hostages to fortune.
"You needed a knack to handle a carousel," John Wringe, the chairman of the brand consultancy Your Future and an adman for more than 30 years, recalls. "The slides had to be loaded the wrong way round and upside down, so there was always a high chance of making a mistake."
What's more, to use a carousel was always to risk evoking Murphy's Law, which states that if anything can go wrong, it will.
And it did the time Bill Husselby, the Cogent chairman, was about to present to executives of Massey Ferguson, the agriculture equipment manufacturer and his agency's biggest client, at their Canadian headquarters.
With the auditorium hushed and expectant, Husselby went backstage to check on the progress of the carousel slide presentation being put together by his managing director, Ray Lee.
Husselby opened the door, which hit Lee, sending him crashing into the projector and spilling the slides everywhere. Husselby then succeeded in turning a drama into a crisis by accidentally stepping on the slides, shattering many of them. "I'll leave you to it, Ray," a shamefaced Husselby said as he tiptoed away.
Curiously, the fact that the carousel was costly to use was also a benefit. "Each slide cost around £6.50 to produce, which made a lengthy slide presentation quite expensive," Wringe says. It was a great incentive to keep the slides - and the verbosity - to a minimum.
THINGS YOU NEED TO KNOW
- The first carousel slide projector, launched by Eastman Kodak in 1962, was invented by Louis Misuraca, who emigrated to the US from Naples. Instead of royalties, he took a one-off payment from Kodak and used the money to take his family on a trip to Italy.
- An episode of Mad Men suggests the carousel was christened by Don Draper. Asked by Kodak to devise a campaign for their new but unexciting concept, Sterling Cooper's creative chief, with his marriage on the rocks, talks emotionally of the projector as a "time machine" and uses it to screen images of his wife and children. "It takes us to a place where we ache to go again," he tells them. "It's called the carousel."
- The arrival of the overhead projector and advances in digital photography marked the end of the carousel. Kodak ceased production in 2004.