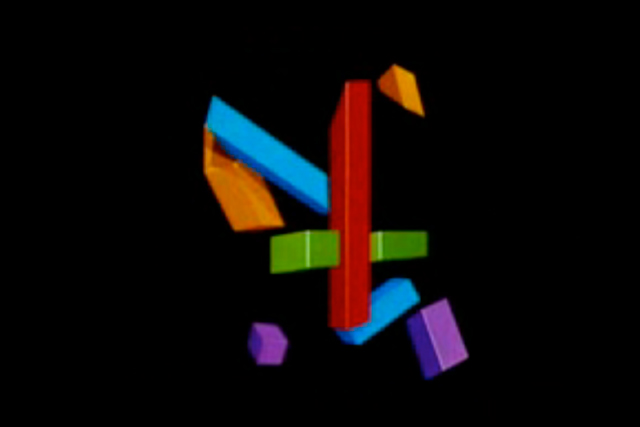 Even Martin Lambie Nairn, its designer, admits that today's viewers would pay little regard to the channel's famous visual calling card with its elegant moving bright colours bringing together different elements to form the figure 4.
Nevertheless, the logo was deeply significant. Not only was it meant to represent C4's philosophy of commissioning programmes independently and drawing them all together, it also marked the first serious attempt by a TV channel in the UK to brand itself.
Indeed, there was a vital need for C4, commercially self-funded but ultimately publicly owned, to define its philosophy. It was born in contentious circumstances and has been a constant companion of controversy from the moment it went on air on 2 November 1982.
C4 was the result of a plan long in gestation. Ever since ITV's launch in 1955, the idea of an "ITV2" had been lobbied for. Not least by advertisers eager to break ITV's monopoly that they believed exploited them.
Fearing competition would slash their ad revenues, the ITV companies demanded control of C4.
However, William Whitelaw, the then Home Secretary, would dance to neither side's tune, warning that competition of advertising on the two channels would lead to a concentration on maximising audiences. This, he argued, would have adverse consequences for both channels and, eventually, the BBC.
As a result, C4 was charged with attracting small, niche audiences that could be delivered to advertisers relatively cheaply. In its formative years, funding was provided by the ITV companies in return for the right to sell advertising in their region on C4. The arrangement ended in 1993.
Under its first chief executive, Jeremy Isaacs, C4 ruthlessly pursued its remit of showing edgy programming not available on any other terrestrial channel.
The radical approach of Isaacs was never short of detractors, who lampooned his approach. And when his successor, Michael Grade, attempted to shed C4's "worthy but dull" image by going after its all-important 16-34 demographic with sexually explicit images, the Daily Mail's Paul Johnson dubbed him "pornographer-in-chief".
Today, C4's immediate fate lies in the hands of its current boss, David Abraham. Can he attract the young adult audiences so popular with many advertisers in the post-Big Brother era?
THINGS YOU NEED TO KNOW
- The original multicoloured logo that launched the channel in 1982 was made up of colours from the light that emanates from the TV: red, blue and green; purple from mixing red and blue; yellow from mixing red and green.
- The way the original logo broke up then came together again to make the number 4 was called "round and back" and it was set to the iconic Fourscore theme tune by David Dundas.