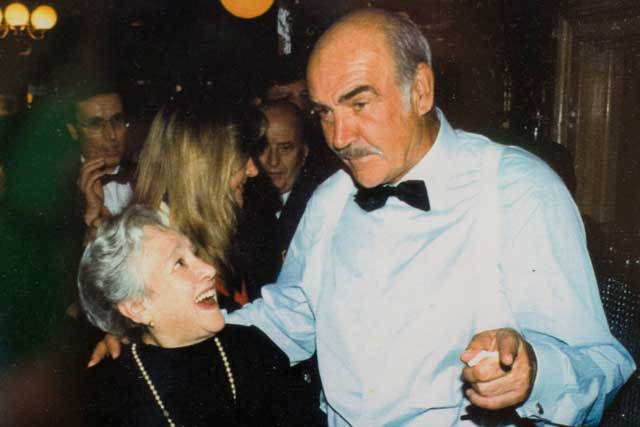 Her reputation as the queen of old-style Soho hospitality belied her diminutive stature. And when it came to customer relationship marketing, she could have taught some advertisers a thing or two.
Although photos signed by the likes of Sean Connery line the walls of L'Etoile on Charlotte Street (where she spent two decades), Salvoni was famous for treating agency people equally, regardless of seniority.
"She made it her business to see you got the best possible service," John Banks, the former Young & Rubicam and FCB London chairman, recalls. "It didn't matter if you were small fry or a big cheese."
"Everybody knew her and she made sure she knew you," Paul Bainsfair, the former TBWA\Europe president who is now the IPA's director-general, says.
A one-time seamstress, Salvoni joined the restaurant business in 1943 at Cafe Bleu on Old Compton Street. She moved to Bianchi's on Frith Street, taking over front-of-house duties and staying for 30 years. She left in 1981 for L'Escargot, retiring briefly in the early 90s, before being lured lack to manage the upstairs room at the Gay Hussar and then L'Etoile, now Elena's L'Etoile, in 1992.
The restaurant was already host to some of adland's leading figures, but it was the arrival of Saatchi & Saatchi in Charlotte Street after its takeover of Compton in 1975 that put L'Etoile on the industry's radar.
Tim Bell, the new chairman of Saatchi & Saatchi Compton, held almost perpetual court there at the coveted window table - usually having driven there from his office just 200 yards away.
L'Etoile and Salvoni seemed made for each other and she ran the place with almost telepathic efficiency. Bainsfair remembers celebrating a promotion with lunch at L'Etoile and being shown by Salvoni to the window table. "I'd not spoken to her about it," he says. "Her antennae were just amazing."
Things you need to know
- Salvoni went into enforced retirement aged 90 in July 2010. "They said that, at my age, they can't get the insurance for me."
- She received an MBE in 2005 and was last year presented with a lifetime achievement award by Caterer And Hotelkeeper magazine.
- Salvoni, just five feet tall, once explained: "When I approach customers seated at the table, they look me straight in the eye and immediately feel at ease."