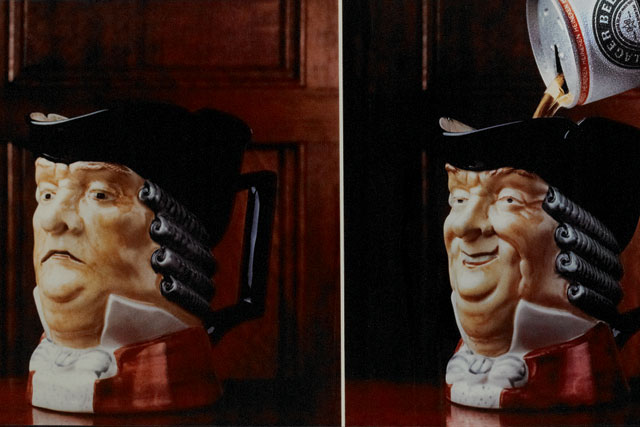 That's because they can be linked back to Heineken's renowned "refreshes the parts" advertising, not only one of Britain's most enduring campaigns but also one that changed a nation's drinking habits.
A set of the specially made jugs are owned by the veteran copywriter and one-time agency boss Alfredo Marcantonio, who created the poster at Collett Dickenson Pearce with the art director Rob Morris.
"We went to a ceramic artist because we wanted the expressions on the jugs to be exactly right," Marcantonio remembers. "They were expensive, but it was a time when money was no object at CDP."
In these days of campaigns being researched to within an inch of their lives, it's debatable whether "refreshes the parts" would have made the cut, let alone run for two decades. The story of how the ads made it through raises a question whose relevance has not diminished over time: how much should research results dictate whether a creative idea lives or dies?
Had Anthony Simonds-Gooding, then the Whitbread marketing director, chosen not to follow his instincts after seeing poor feedback from the first three "refreshes the parts" TV spots, the campaign would have been stillborn. But Simonds-Gooding pressed on. Some say he had little choice, having already sold the campaign to brewery managers in Britain and Holland.
In fact, much of "refreshes the parts" story has an off-the-wall feel to it. The light-bulb moment occurred not in London but in Marrakech, where the CDP writer Terry Lovelock and his art director Vernon Howe were on a stills shoot for Ford. The story is that Frank Lowe, CDP's managing director, angry at the delay in cracking the Heineken brief, had warned the pair not to come back if they failed to do so.
Lovelock says: "At 3am, I woke, grabbed my notepad and wrote two lines: 'Heineken is now refreshing all parts' and 'Heineken refreshes the parts other beers cannot reach'. I blame it on a mixture of desperation and mental incubation."
Things you need to know
- Frank Lowe presented the "refreshes the parts" line to Anthony Simonds-Gooding while the pair were on a flight to St Petersburg. He had written it on a sick bag.
- Legend has it that the relationship between CDP and Whitbread was so close that fast-turnaround Heineken press ads and posters based on current events sometimes ran without client approval.
- When Australian lagers arrived in the UK in the 80s, Heineken reinforced its European credentials by hiring the comedian Victor Borge for the voiceovers. This struck some as curious, since Heineken was Dutch and Borge was Danish.