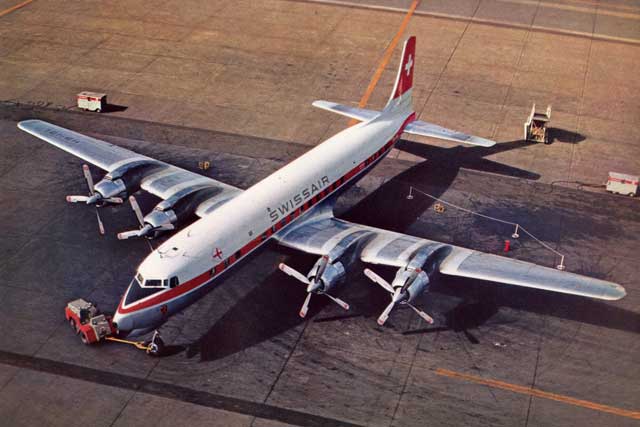 An ego-driven new-business wizard with a taste for the high life, Harper ensured that, whenever he travelled, he was met by limousines, stayed in the presidential suites of the best hotels and had special foods prepared for him.
These indulgences, though, paled into insignificance beside his private plane: a combined flying office and luxury apartment that IPG bought for $500,000 (the equivalent of about $2 million today) from KLM in 1965.
Even judged against later industry excesses, the four-prop Douglas DC-7 was a mind-blowing extravagance. Costing $1 million a year to maintain, the aircraft boasted bronze floor-lamps, deep-pile rugs, leather sofas, silk wall coverings and a bedroom.
It was all a far cry from Harper's cash-strapped origins in Oklahoma City, but testament to his whirlwind rise through the ranks at McCann Erickson, where he was appointed president aged just 32.
Time magazine described him as the "most cussed and discussed" figure on Madison Avenue in a 1962 cover story. But his success was beyond dispute as he pulled in such accounts as Coca-Cola and Buick and increased the agency's billings by 600 per cent in one year.
But it was Harper's search for a solution to the problem of account conflict caused by client growth through diversification that led to an industry game-changer.
In 1961, he established IPG as an umbrella for his agencies, with McCann at its heart, in order to handle competing businesses.
Within just six years, however, Harper's career had crashed in flames. Unable to grasp the fact that IPG's increasing debt problems could not be solved by more business volume, he was ousted by fellow directors.
His personal finances in ruins and his ego wounded, Harper returned to Oklahoma City. Rumours of him starting again with a smaller agency were never fulfilled and he died there of a heart attack in 1989, having declared: "I have been captured by what I chased."
THINGS YOU NEED TO KNOW
- In 1979, 11 years after he left IPG, the American Association of Advertising Agencies named Marion Harper, David Ogilvy and Albert Lasker, hailed as the founder of modern advertising, as the three most-interesting figures in advertising mid-century.
- One of the first acts by the new management put in place at IPG after Harper's departure was to dispose of the group's fleet of planes, including the former boss' DC-7.
- IPG is currently ranked third among the world's advertising conglomerates behind Omnicom and WPP.