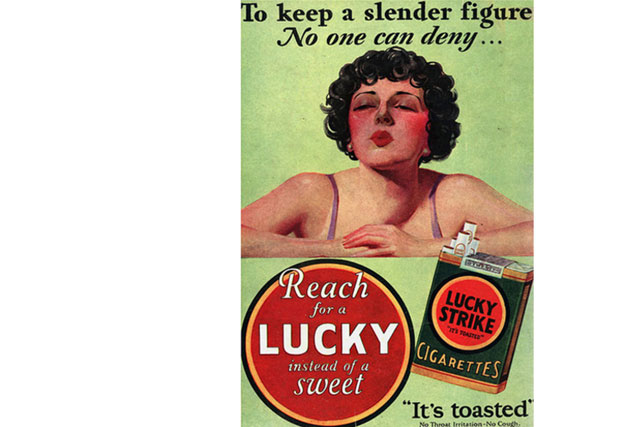 Could it be Leo Burnett's Draper Daniels, infamous for his underhand treatment of women and one of the creatives behind the "Marlboro Man" campaign? Or maybe it is Emerson Foote (of Foote Cone & Belding fame). Like Don, both men eventually went public about their distaste for the activities of the big tobacco companies.
Or what about George Lois, strikingly good-looking with an ego to match and hailed as one of the brightest talents to come out of New York in the 60s? Perhaps Draper is an amalgam of all three.
However, a strong case can also be made for Foote's one-time boss Albert Lasker. Indeed, it was Lasker's campaign for Lucky Strike cigarettes that got woven into the plot of a Man Men episode - with Draper getting the credit.
With health concerns growing, Draper asks his client how the cigarettes are made. "We breed insect-repellent tobacco seeds, plant them in the North Carolina sunshine, grow it, cut it, cure it, toast it," he replies. Draper responds by writing "It's toasted" on a blackboard. "But everybody else's tobacco is toasted," the client retorts. "No," Draper answers. "Everybody else's tobacco is poisonous. Lucky Strike is toasted."
In fact, the famous slogan was invented some three decades earlier at Lasker's Lord & Thomas agency in Chicago. Devised by Lasker's protege, Claude Hopkins, the campaign was based on Lasker's observation that Lucky Strike tobacco was heated to up to 300 degrees during the manufacturing process. No matter that most other tobacco was heated in the same way. Lucky Strike was promoted with copy stressing the unique benefits of toasting, including improved flavour and reduced acidity. It marked the start of Lucky Strike's rise as the leading US cigarette.
At a time when ad techniques were little understood, Lasker's eagerness to know what it was and how it worked led to him being acclaimed as the father of modern advertising. He was a true pioneer, creating the first in-house copywriting department and devising a technique that appealed directly to the psychology of the consumer. In doing so, he helped turn Kleenex, Pepsodent, Quaker Oats and Palmolive into household names.
Things you need to know
- Albert Lasker is famous for building Lucky Strike sales to women by promoting the brand as a slimming aid. An ad that urged them to "Reach for a Lucky instead of a sweet" caused uproar among US confectionery manufacturers.
- Lasker had a reputation for ruthlessness towards those he thought failed to meet his high standards. Every few years, he would fire a portion of his staff to keep the rest on their toes.
- He retired in 1942, selling his agency for a token amount to three senior managers - Emerson Foote, Fairfax Cone and Don Belding. He died nine years later aged 72.