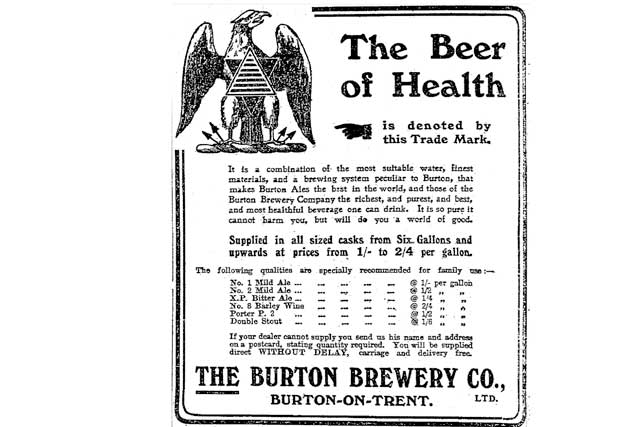 Certainly no examples of a series of ads for Burton's beer dating from the 30s - and which are claimed to have made "Gone for a Burton" part of the national vocabulary - have ever been traced.
Legend has it that the ads featured characters using the phrase to explain the absence of one of their number who had popped out for a beer. One execution is said to have shown footballers asking what had happened to their missing player, only to be told that he had "gone for a Burton".
However, it wasn't until World War Two that the slogan achieved widespread popularity, when RAF pilots used it to explain what had happened to one of their fellow fliers who was missing in action.
The truth about whether the advertising was actually the source of the phrase - the Burton Brewery "went for a Burton" in 1935 - may never be known. An alternative explanation is that it comes from the RAF's wartime practice of hiring billiard halls - always above Burton tailoring shops - as medical centres or for aptitude tests and that to "go for a Burton" referred to going for a test of some kind and failing it.
Irrespective of which theory is correct, "Gone for a Burton" can be said to have alerted advertisers and their agencies to the value of coming up with slogans that people would slip into daily conversations.
Dave Trott can claim ownership of a memorable string of endurable slogans including "'Allo Tosh, got a Toshiba?" He says: "Much of it is down to luck, but you can help make a slogan popular by making it grammatically incorrect. 'Winston tastes good like a cigarette should' springs to mind. It's also good if you can piggyback on a saying that's growing in popularity as McDonald's did with 'We're lovin' it'.
"What works best of all is if you can personalise your slogan in a way that gets people involved and makes them familiar with it. Making 'pinta' sound like 'cuppa' is a very good example. Getting a slogan into the language amounts to free advertising for your brand."
Things you need to know
- The first known reference to "Gone for a Burton" in print was in an August 1941 edition of the New Statesman.
- After being popularised by the RAF, the slogan quickly migrated to the US. A story called "Husky goes down for a Burton" appeared in the magazine of the Boy Scouts of America in June 1943.
- The slogan may have its origins in a pulley system called a burton, which was used on Royal Navy ships. It was very difficult to use and any sailor not where he was expected to be was said to have "gone for a Burton".