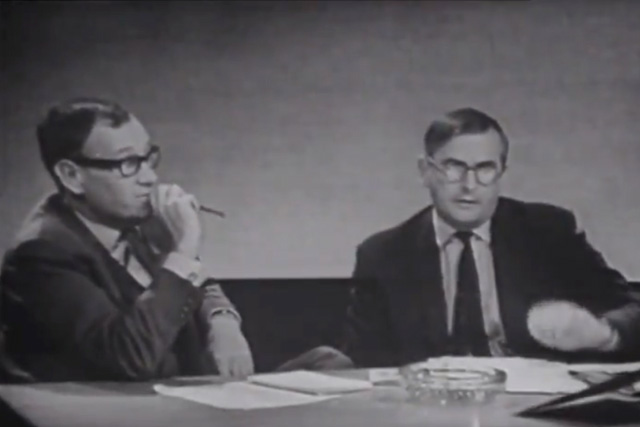 Countless transfers to tape make it look like a grainy throwback to a black-and-white age, and the suited and Brylcreemed participants have cut-glass accents to match any BBC newsreader.
An easy target for mockery, you might think. And yet, "Risk And Responsibility" delivers a message that's as relevant in today's world of complex marketing communications as it was in the 60s.
The film's timeless contention is that creative risk-taking is essential to effective advertising.
It argues that the risk of admitting a product is less than perfect, of being too clever or of not being taken seriously is nothing when compared with the risk of producing work that never gets noticed.
The film grew out of a last-minute decision by the organisers of the Advertising Association's 1966 Brighton conference to include a session on creativity.
They approached Ronnie Kirkwood, the president of the Creative Circle, to ask if he could fill an hour-long pre-lunch slot.
Kirkwood turned for help to JWT's Jeremy Bullmore, Sam Rothenstein, a creative director at Masius Wynne-Williams, and David Bernstein, Garland Compton's new creative chief.
The hilarious high point of the presentation was an ad-libbed sketch in which Rothenstein plays an obsequious account director presenting David Ogilvy's iconic "the man in the Hathaway shirt" ad to Bullmore and Bernstein as a couple of highly risk-averse clients.
The pair suggest a series of seemingly reasonable amendments that emasculate, then ruin, one of the most famous print ads of all time.
Such was the presentation's impact that news of it reached Lever Brothers, which asked the team to repeat it at a staff workshop.
Bernstein said he could not take part because Garland Compton worked for Procter & Gamble. But the problem was resolved when Lever agreed to the talk being filmed at the company's expense.
Lever later transferred the rights to the Creative Circle, which generated income from it for the next dozen years.
"The film's relevance hasn't changed," Bernstein says. "I keep being asked if you could make an updated version of it. The answer is most certainly yes."
Things you need to know
- Kirkwood, who fronted the film, went on to form his own agency, The Kirkwood Company, in 1970. He stepped down in 1985, claiming that "the business has been taken over by accountants and bookkeepers".
- Fourteen years after "Risk And Responsibility" was made, Ogilvy sent Bullmore a telex from Chicago. It read: "Just seen 'R&R' in company of young MBA. Congratulations. Thought you'd like to know that young MBA is in total agreement with you that the final Hathaway ad was great improvement on the original."