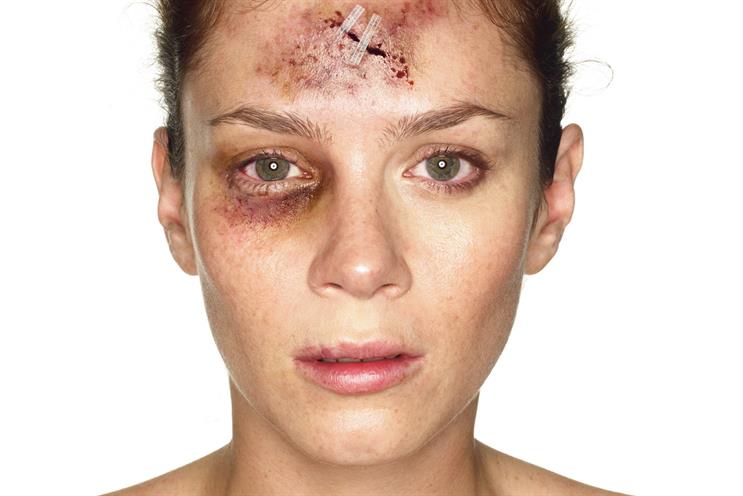 When Charles Saatchi accepted a police caution for assaulting his wife, the London Evening Standard defended its decision to keep him as a columnist by stating it did not wish to intrude on the "complexities of a couple's marriage". In May, Facebook took action after campaign groups called for the social network to prevent ads from appearing next to pro-domestic violence content on the site.
Addressing domestic violence – let alone representing it in advertising – is fraught with tensions, from avoiding voyeurism to strongly held notions of privacy in the home. And, yet, it is essential: one in four women in the UK will experience domestic abuse in her life and, every week, two are murdered by a current or former partner.
Momentum is building behind a move to evolve communication of the issue. The word "domestic" could even be dropped from the phrase as advocates feel it belittles a very public concern.
Shock tactics
Ad campaigns, mostly run by the Home Office, Women's Aid and Refuge, have historically used images of violence to attract attention. This can be risky, Polly Neate, the chief executive of Women's Aid, which created "act", explains: "You need to be really careful that you don't glamorise or become exploitative in presenting images of domestic violence."
Hard-hitting charity advertising is often the stuff of great award entries, but Neate does not worry that agencies may be motivated by gongs. "I've got no problem with an agency doing work with us and also believing that they may win an award," she says. "Domestic violence is not a fashionable cause, so any agencies involved are at least as motivated by the cause as they are by anything else."
Perpetuating violence
Some campaigners argue that focusing on graphic violence may perpetuate it. "We absolutely need to stop showing images of women being beaten up," Gail Parminter, the creative director of the female-focused consultancy Madwomen, says. "I don't think the advertising industry is doing this issue any justice. I've not seen an ad that addresses the underlying issue: why do men inflict this violence on women, and why do women put up with it?"
She refers to Women's Aid's 2009 film "cut" (by Grey London), which featured Keira Knightley as an actress who was grabbed and kicked by a man in a scene that blurred reality and fiction. Parminter argues that the spot tacitly promotes the acceptance of domestic violence by failing to examine why the violence takes place or empowering the female character to improve her situation: "It's not very nuanced: the passive, attractive woman going home, the shadowy male figure. It's almost like the beginning of a porn film."
Some recent ad campaigns have concentrated on the psychology of the perpetrator, such as Women's Aid's "real man" work, also by Grey, which saw celebrities such as Gordon Ramsay (pictured, bottom left) in T-shirts that read: "I'm a real man." The Home Office's ongoing "this is abuse" campaign (by Rainey Kelly Campbell Roalfe/Y&R), focusing on teenage relationships, recently ran ads in which viewers could vote on whether they thought being pressured to have sex or told what to wear by a partner was acceptable.
Help from social media
Agencies have embraced social media to bring the issue to attention. "This is abuse" organised a "virtual march" on the online teen community Habbo Hotel in 2011, while Refuge's collaboration with the YouTube make-up blogger Lauren Luke, "don't cover it up" (by Bartle Bogle Hegarty), caused a stir last year when her subscribers saw her apparently concealing bruises with make-up.
You need to be really careful that you don't glamorise images of domestic violence
Sue Unerman, the UK chief strategy officer at Media-Com, which has worked on some Home Office campaigns, says a wider social adjustment needs to take place: "We need a change of culture. It's not an issue that can be solved by advertising alone; the more the media gets behind it, especially papers that are traditional in their views, the more things will change."
With little or no ad budget, charities rely on pro-bono offers from agencies and donated media space, which reduce their leverage over the creative process. Neate agrees they haven't cracked it yet: "What would be really good would be advertising that manages to convey the perspective of a victim of domestic violence in a way that respects that perspective but still gets the message across in a hard-hitting way. That's a major challenge and one we'll always be working on."
Campaigns that made us think
Home Office 'bedroom boy' and 'bedroom girl' by Rainey Kelly Campbell Roalfe/Y&R (2010)
A teenage boy verbally and physically attacked his girlfriend in two spots, directed by Shane Meadows, in which the assault was watched by one of the characters from behind a screen, asking if they could see abuse taking place.
Metropolitan Police Service 'domestic violence next door' by Abbott Mead Vickers BBDO (2010)
Viewers were urged to call 999 to make the sounds of violence stop, as a neighbour listened to them from the house next door. The spot ran during the World Cup after findings showed that domestic violence increases significantly during the tournament.
Women's Aid 'blind eye' by WCRS (2012)
A cinema ad that used 3D stereoscopic technology to allow the viewer to switch between two versions of the film by closing a different eye. In one version, a woman cooked contentedly in a kitchen; in another, she was threatened by her partner. The strapline asked: "Would you turn a blind eye?"