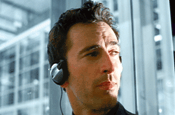 The electronics company has shortlisted Nexus Haku-hodo, Dentsu, McCann Erickson and The Loewy Group. Its Maidenhead office will handle the pitch.

The brief will be to create campaigns across print and TV that promote the umbrella Hitachi brand.

The company produces a range of home equipment such as washing machines and flat-screen TVs, but it is ?understood that the new advertising will not promote individual products or be retail focused.

Instead, the majority of the work will focus on highlighting many of the company's technological advances that are generally unknown, such as the Hitachi servers that power Facebook and the Hitachi technology used inside Eurostar trains.

There will also be a corporate social responsibility element to the business.

Loewy already works with Hitachi on a number of advertising projects and was responsible for the electronics company's last UK TV work, which appeared in 2006 and used the line: "Hitachi's technology and know-how improves your life."

The agency won the business in February 2006. The global Hitachi roster list also includes Nexus Hakuhodo and CDP.