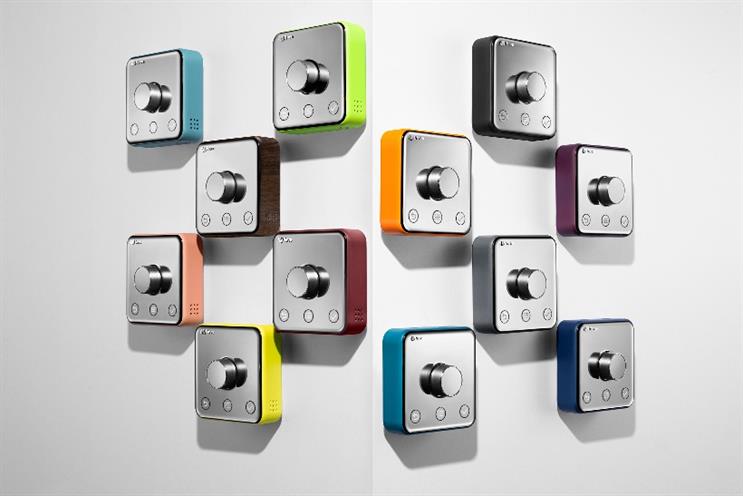 The brand has unveiled five new products, including a second-generation thermostat designed by Jawbone's designer, Yves Behar.
The thermostat marks a significant step forward from the first Hive, introducing a mirrored LED screen and changeable frames in popular Dulux colours.
It also comes with new features, such as the ability to "boost" hot water or heating for an hour, a more flexible scheduling facility, and support for zones, meaning customers with multiple thermostats can control the temperature in different areas of their homes.
What we'll see as the brand evolves is communicating that key message of control wherever you are, whatever you're doing
Other new products include a smart plug, which lets users switch off items like hair straighteners remotely, a range of sensors that detect when windows and doors have been left open, and smart lights that can be controlled remotely.
The new thermostat will cost £249, though existing customers can upgrade for £99. The original cost around £199. Hive isn't revealing a price for its other new products, but all will be available in the autumn.
Evolving the Hive brand
While Hive has notched up 200,000 existing customers, there are 20 million households in the UK with the potential to become connected homes, signalling a significant growth area.
Hive's marketing chief, Pamela Brown, made clear the brand's ambition to own the connected homes market in the UK.
She told Marketing: "As we move from selling a heating product to multiple products in the connected home, a key strategic piece of work for us is how we evolve from heating."
Brown noted that many British consumers are still "unsure" about the concept of connected homes, and a key challenge for Hive was to render the idea tangible.
Brown said the brand will likely move away from the tech-focused marketing of its rivals, and focus on what the products allow customers to do.
She said: "It's less about products on the wall and much more about what it enables. The key benefit is control any time anywhere, and what we'll see as the brand evolves is communicating that key message of control wherever you are, whatever you're doing."
The company has evolved its visual identity, presenting the new Hive thermostat as a desirable, well-designed product rather than something functional.
Boosting British Gas
British Gas' commercial director, Nina Bhatia, added that the start-up brand was having a positive effect on its parent's reputation.
Post-privatisation, the UK energy sector remains one of the least trusted by consumers, but innovations like Hive have demonstrated how an established business can evolve, Bhatia said.
Hive's positive customer satisfaction rating – 92% of its customers would recommend the product – could have a halo effect on British Gas.
Bhatia told Marketing: "When we tested [brand] names, customers said they wanted the innovation of Hive but the reliability of British Gas.
"There are a lot of customers who are new to the brand, and will subsequently consider British Gas products.
"It's been a challenge, but I know we are the forefront of this. There are not that many organisations that have pulled off the entrepreneurial start-up business within a large, mature business."
Making sense of smart homes
Currently the connected homes market is fragmented in the UK. The Phillips Hue starter kit costs £149 – which is a pricey lightbulb – and requires its own fittings, for example.
Hive hopes to change this with products that work with consumers' existing setup, but can talk to each other to create a more holistic experience. The company is working on an "Recipes" – essentially a collection of conditional commands in the style of If This Then That.
The idea is to enable a Hive customer who owns multiple connected products to program a sequence of events. For example, a sensor that detects a car in the driveway at 5.30pm will then trigger mood lighting and music in the kitchen.
Hive won't be releasing recipes with its new suite of products, but said it would have "basic" recipes available in the autumn.
Kassir Hussain, director of connected homes at British Gas, said: "It's the logic of stringing the connected home together, while making it easy for consumers. That's the key challenge."
---
Recommended