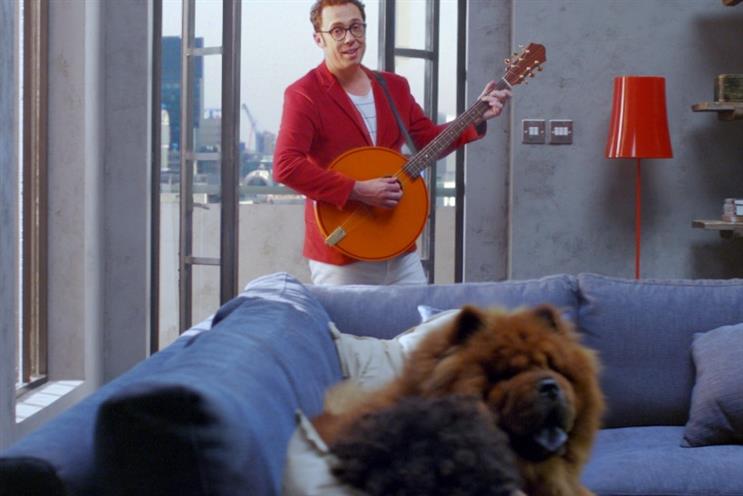 Hive is making a land grab for the smart homes market in the UK, having identified 20m households in the UK with the potential to become connected homes.
The key word here is potential. The 'Things Unconnected' report from Deloitte earlier this year found only 2% of UK consumers own a smart thermostat, but consideration is three times higher.
Importantly for Hive, consideration is much higher for smart TVs, wireless speakers, fitness bands and smart lighting, which might be why the brand's exploring new products.
Read more: How Hive plans to 'own' 20m connected homes
Marketing as education
There's often an "if it ain't broke, don't fix it" attitude towards new technology in the UK, meaning tech brands have to take an educational approach to their marketing.
Hive's most recent campaign centres on a character called the bard, a singing human instruction manual who explains in rhyme what a connected thermostat can do.
As well as the main TV spot, Hive launched pre-roll video ads on YouTube which explained the thermostat in just five seconds, racking up 1m views and leading to a spike in sales.
The brand has built on this activity with a virtual reality experience for visitors to the Ideal Home Exhibition and Bluewater this week.
Created by Somo, and seen by Marketing, the experience walks the consumer through different household scenarios using Hive and its range of connected products.
Emma Inston, Hive's marketing director, said Hive was moving to an "always-on" marketing strategy, driven by the new family of products.
To date, the company has focused on the coldest quarters in the year to push its thermostat, but will step up spend in Q2 and Q3 to promote its other connected products.
Inston described the brand's briefs to its creative agency, CHI & Partners, as "media neutral".
She told Marketing: "It's about developing ideas that are media-neutral, so they can work right through the line.
"Digital and social content can help with that educative side – this is a nascent market with new products and benefits."
With the likes of Google's Nest and Samsung also muscling in on connected homes, Inston says the association with British Gas was also an important sales and marketing tool.
Loyalty in a new market
Another challenge is loyalty.
Hive has so far taken the smartphone manufacturer approach, offering existing thermostat owners cheaper upgrades to the next model. For example, first-generation Hive thermostat owners can upgrade to the new version for £99. New customers otherwise have to pay £249 for the device and installation. Inston said Hive had seen "a proportion" of customers upgrading already, but didn't give a figure.
Inston added that Hive was considering targeting its existing base customers with "product bundles", based on different needs.
For example, a Hive household with lots of kids tramping in and out of the house all day might benefit from a bundle including smart locks and connected cameras for security. There might also be bundles for older couples, or people who travel a lot.
Inston added that Hive would be investing in a CRM platform to tailor its communications and to target customers with the right products.