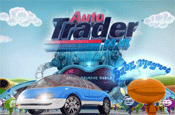 The ads, created by Hurrell Moseley Dawson and Grimmer, positions the publication as "The World of Cars Made Easy". It breaks on Thursday 28 February.
Three spots in the campaign each use animated robots to show Auto Trader makes it easier for buyers to choose their next car.
One execution features a machine that builds a car from a set of different variables requested by each robot. The voiceover explains how Auto Trader allows buyers to choose their next car by inputting specific preferences rather than trawling the site.
The TV ads will be supported by radio, online and in-store and garage forecourt advertising.
The marketing drive comes as the publication looks to arrest declining circulation and change its brand perception to appeal to a wider range of motoring audiences. It is HDMG's first TV campaign since it won the Auto Trader business last September.