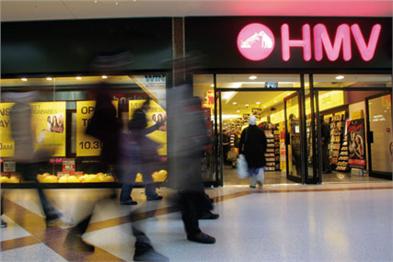 More than 1,000 roles are expected to go across operations in the UK & Ireland when the plug is pulled on 40 HMV stores and 20 Waterstones stores, according to sources.

It is hoped that natural churn will help reduce the number of forced redundancies across the group.

Earlier this month, HMV issued a profit warning following a "disappointing" Christmas period. The company reported underlying net debt of £151m during its first-half results in December.
An HMV spokesperson confirmed a round of redundancies was pending following the group's last trading update, and said the first stores to close will be those underperforming in cities and towns that house two or more stores. No further details regarding the number of job losses were provided.
The anticipated cuts follow revelations that HMV is the most shorted stock in the FTSE All Share index, with nearly 24% of its shares currently out on loan. This means shareholders have been betting on its share price to continue to fall.

Sources have also confirmed that HMV has hired the services of specialists KPMG but stress it is only a negotiating team tasked to help with its loan agreements, as opposed to KPMG's restructuring team which handles insolvency issues.

HMV shares have already plummeted to a 52-week low of 19.50 on Friday (21 January), after the entertainment chain last week confirmed its credit insurance was being reviewed.

Credit insurance is the means by which suppliers are protected if their customers go bankrupt and failure to get cover was partly attributed to the downfall of entertainment chain Zavvi two years ago.
However, a spokesman for credit insurer Euler Hermes played down the significance of the move, noting that HMV's insurance is always reviewed and adjusted before and after the festive trading period, for obvious [supply and demand] reasons.

HMV's media planning and buying duties are currently handled by OMD. A spokesman said they are currently happy with HMV's principle and it's "business as usual" as far as trading is concerned.

Robert Swannell, chairman of HMV, has confirmed the credit review, but added: "While this has resulted in the reduction in the availability of credit insurance to certain of the company's suppliers, our business remains a core channel to market for them.

"We continue to maintain excellent relations with our suppliers and have had no difficulty in obtaining stock."

HMV can claim to be the last bastion of mass CD and DVD distribution on the high street and as such, a vital link in the chain for many in the music industry.

Last week, seven of the country's top music executives pledged to support HMV in an open letter. It stated: "Nothing has changed in each of our individual trading relationships with HMV - it is business as usual."
Simon Fox, chief executive of HMV, called the last 12 months "a challenging year" in its latest update.