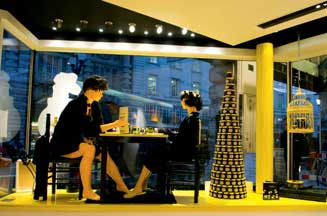 The shop will be open seven days a week until the new year and will stock more than 100 Marmite-branded products, including food, clothes, art and Christmas boxes. It will also sell some exclusive lines.
The shop, which has two floors, also houses a 'tea and toast' bar.
Another brand to have opened a set of pop-up stores this year is HMV. The brand has launched 10 pop-up outlets in the run-up to Christmas.The shops, including one in the Howard Centre in Welwyn Garden City, are on short-term leases and are expected to close in January.
Max Reyner, insight editor for trends and research company LS:N Global, said the trend is, in part, caused by the recession - as unsuccessful stores go under, more empty retail spaces are available to brands to experiment with.
He believes brands are opening temporary, rather than permanent, stores because they have become more cautious about entering the retail space due to tough trading conditions. 'The pop-up store is the perfect way to test the water.'
The rise of the pop-up store has led brands to try other innovative retail strategies.
During the 'Wish You Were Here Swap' project, 30 independent boutiques in the Newburgh Quarter in London traded places with stores on New York's Lower East Side. The unique event, inspired by the pop-up shop trend, allowed brands to showcase their lines to consumers across the Atlantic.
Other companies have used temporary shops to house temporary brands. Clothing brand Comme des Garcon, for example, created one to display its pop-up brand BLACK, which was only available to consumers for 18-months.
Reyner said brands have to be more innovative to draw people into stores because many consumers now going online to make purchases.
In the US, pop-up shops are almost becoming a 'permanent' fixture. For example, in New York some companies are opening retail spaces design specifically for the pop-up shop phenomenon. These warehouses are painted white and rented to brands on a short-term lease, allowing them to stamp their style on it for a limited period before moving on to their next destination.
In essence, they have to develop the in-store experience to get people off their sofas and into their stores, so that they can physically interact with brands.