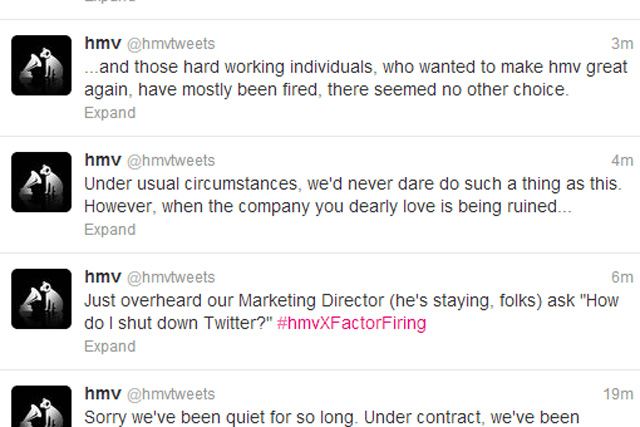 Using the hashtag #hmvXFactorFiring, @HMVtweets claimed that staff were being fired by the HR department.
Administrator Deloitte subsequently confirmed that 190 people have been made redundant at the brand's head office and distribution centres.
The tweets (see below), which were quickly deleted, also claimed that the "marketing director" was asking "How do I shut down Twitter?".
HMV, which has 239 stores in the UK, went into administration two weeks ago. The 92-year-old company has struggled against online rivals such as Amazon.
Nick Edwards, joint administrator at Deloitte, said: "Following our review, a number of redundancies at the head office and distribution centres have been made. Although such decisions are always difficult, it is a necessary step in restructuring the business to enhance the prospects of securing its future as a going concern."
Click on image to enlarge
Read more on this story on The Wall blog: HMV shouldn't be closing down its Twitter feed.