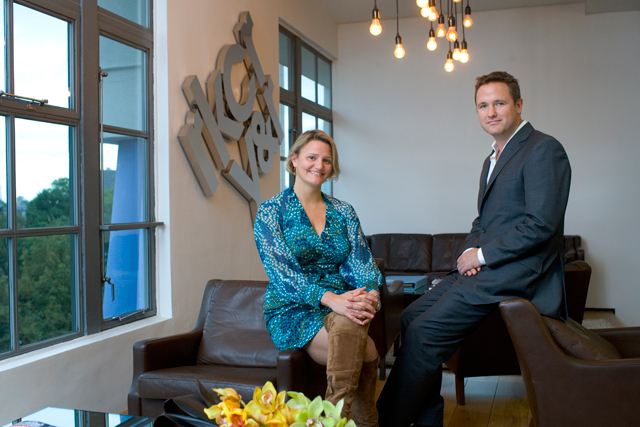 Alison Hoad and Ben Kay were clearly waiting for the question to come. "Ah, the dreaded 'can a planner run an agency?' debate," Hoad jokes, as she sits back on a sofa in Rainey Kelly Campbell Roalfe/Y&R's recently revamped open-plan office.
The reason Hoad and Kay are having to tackle such an issue is that the pair, who are both strategists by trade, have been promoted to joint chief executives. The move follows the departure of the chief executive, Richard Exon, who is leaving WPP to found a start-up with RKCR/Y&R's executive creative director, Damon Collins.
But the strategy question is being asked for good reason. It's not hard to spot that very few of London's major agencies are run by people from a planning background, and even one top UK planner admits: "I don't think planners can run agencies. Most don't make terribly good leaders, and if they did have all the desirable chief executive qualities, then they probably wouldn't have become planners in the first place."
Even so, Hoad and Kay are ready to give this chief executive lark a good go, and few would begrudge them the opportunity - especially at an agency that, according to one former colleague, "they both have in their blood".
The duo have certainly earned their stripes at RKCR/Y&R, having joined within three weeks of each other in 2004. Since then, they have become an integral part of the agency's management set-up, overseeing some of its biggest accounts. Hoad in particular has played a pivotal role on RKCR/Y&R's BBC business (which it successfully retained earlier this year), while Kay has been instrumental on Lloyds TSB and led the planning as the agency pitched for and won the £47 million Vodafone account over the summer.
"Alison is calm and well-connected," Jon Tipple, the McCann London head of planning, who spent two years working with Hoad at RKCR/Y&R, explains. "She is humane, experienced and can make the big decisions."
Meanwhile, Kay, who spent time in New York, Singapore and Toronto before moving to RKCR/Y&R as its deputy head of planning, is described by peers as "incredibly ambitious" and "destined to move quickly through the ranks as soon as he joined the agency".
"Clients love Ben," Adam Graham, the Weapon7 chief executive and former head of RKCR/Y&R's digital offshoot, Saint, says. "He's got such a business brain and you can see they feel confident when working with him."
Now, though, the pair face a very different task. Having previously worked closely with a couple of key clients, they now have to oversee the day-to-day mechanics of the entire agency, encompassing a list of 30-plus accounts, as well as managing all the usual internal employee politics (not to mention the political minefield of the wider Y&R network too). It is a challenge that both Hoad and Kay are eager to tackle.
"This role will allow us to broaden our handprint a bit further, and have more of an influence in where the agency is heading," Hoad says. "The key thing for us is to understand what the next level of change looks like, and how we can do that to help benefit the agency."
Kay adds: "For a combined 40-odd years as planners, we have been advising clients on how to grow their business, so it's exciting for us that we can now do that for Rainey Kelly. People go on about how strategists can't run an agency, but why wouldn't you want those qualities at the top of business?"
Luckily for the pair, they have a fairly solid platform to work from. Unlike that of many incoming chief executives, their role isn't to reform an ailing business. During his tenure as the chief executive, Exon helped elevate RKCR/Y&R to one of the strongest creative agencies in the UK, with a solid new-business reputation.
"We're not taking over the agency to save it, so there's no question of a defensive strategy," Kay says. "We're in a position where we can grow, so for us the challenge is ensuring that there's absolutely no change to the service we provide to our core clients, and that the heart of the agency - fostering creative ideas that solve business problems - remains the same."
A lot of this stems from an agency culture that's apparent when you enter RKCR/Y&R's Greater London House headquarters. Mark Roalfe, the agency's chairman, has a strict "no arseholes" rule, and Hoad points out that it is this philosophy that allows the agency to continue to develop leaders.
"We have a backbone and we're not scared to take the bullet and make stuff happen, but at the same time, people here aren't afraid to make mistakes," Hoad says. "That helps people to become stars, and gives us greater strength in depth and leaders at every level."
Support from these leaders - particularly from Roalfe himself - will be imperative for Hoad and Kay as they find their feet in their new positions. The appointment of an executive creative director to replace Collins (due "as soon as possible") will also be pivotal.
For now, though, Hoad and Kay are raring to prove that the great "can a planner run an agency?" debate is one no longer worth having - at least not in their case.