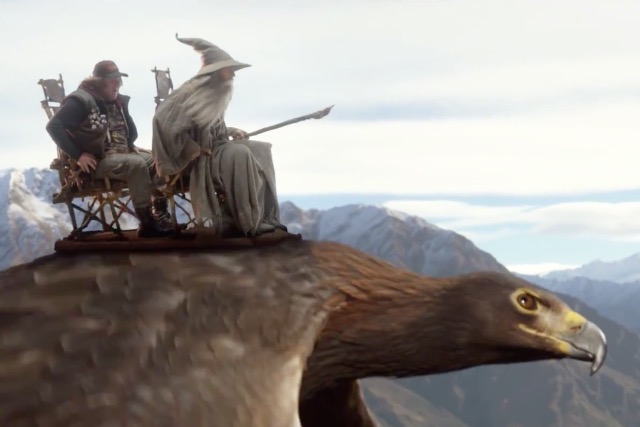 The ad is an emphatic nod to Peter Jackson's 'Lord of the Rings' and 'Hobbit' films, which were shot in New Zealand and have put the country on the map for Tolkien geeks.
In fact, the central characters in the ad are a pair of male and female Tolkien dweebs, who are suitably awestruck.
The tongue-in-cheek, disarmingly charming promo is the third and final tie-in between the airline and Hobbit films and launches as anticipation mounts for Jackson's third and final part of his latest trilogy – 'The Hobbit: The Battle of the Five Armies'.
Air New Zealand has even branded itself the "official airline of Middle Earth", the fictional region from the books and films.
The 280-second video stars: Elijah Wood (the lead in the 'Lord of the Rings' trilogy and who also appeared in the first 'Hobbit' film); director Jackson; Sylvester McCoy, the former Dr Who; and Weta Workshop co-founder Sir Richard Taylor. They explain various safety rules for passengers with a balance of seriousness and silliness.
The ad ends with an epic scene that climaxes with the orcs, elves, men, dwarves and wizards clashing not in a bloody battle but in a big group hug.
Brand: Air New Zealand
Creatives: Taika Waititi, director
Read next