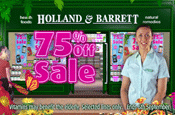 The company, which historically has not retained an ad agency, is reviewing its business ahead of a change in strategy.
The company has plans to substantially increase its media spend, as well as launch a long-running brand campaign in 2009.
Currently, Holland & Barrett uses Guerilla Communications to create product-led tactical advertising, while MediaVest Manchester handles the media account, which is unaffected by the review.
The news of the pitch comes just weeks after the company dropped the 80s popstar Kim Wilde as its brand spokeswoman after what Holland & Barrett claimed was a "change in strategic direction".
The health food sector has recently become much more competitive, as supermarkets and Boots have added health products to their ranges.
Boots is also currently testing out healthcare floors in some of its bigger stores, after it recorded an increase in healthcare sales of more than 6 per cent year on year.
Holland & Barrett has 499 stores worldwide and is the country's leading retailer of vitamins, minerals and herbal supplements.