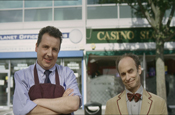 In a radical shift for the health-food chain, the ads will introduce a quirky duo called Mr Holland and Mr Barrett. The latter is obsessed with price, while the former thinks the advice is more important.
The campaign, created by WCRS, introduces the strap-line 'Come for the price. Stay for the advice'. Supporting in-store work is by Woo.
Holland & Barrett will still price-promote, but marketing director Phil Geary said it is moving away from major rolling discounts. 'We were doing huge numbers when a product was 75% off, but nothing at its real price. That's not a great business model,' he said.
Holland & Barrett, which last month acquired rival Julian Graves, will also invest in a new till system that could lead to the launch of its first loyalty card.
To coincide with the campaign, the retailer is revamping its website with the aim of boosting online transactions from 2% to 10% of total sales.